This is an archived article and the information in the article may be outdated. Please look at the time stamp on the story to see when it was last updated.
INDEPENDENCE, Mo. — An Independence police officer who was shot in the line of duty received a huge surprise Friday.
"It totally caught me by surprise," Officer Tom Wagstaff said.
A stunned Wagstaff accepted the keys to a new wheelchair-accessible van Friday. The Independence police officer was one of six people who received new wheels as part of Military Appreciation Month. The donations are made possible through the Cars 4 Heroes program.
The man behind the program said Wagstaff and his family are the type of people he loves to help.
"The guy gave to our community, and I don`t know if people really understand what that means until a guy like him loses his the use of his legs," said Terry Franz, also known as Car Santa, with Cars 4 Heroes. "And he doesn't want anything special. He just wants to be like everybody else, have his family get in the car and go to the doctor and go to the store."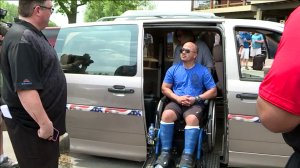 Wagstaff had no idea he would be receiving a handicap accessible van Friday. He thought he was simply coming out to show his support for others.
"Just another event that honors local heroes and veterans, which I`m all for coming out and supporting because the community and everyone has supported me so much. I wanted to show I could do the same and show support," Wagstaff said.
Wagstaff said it will be a lot easier to get around, and he won`t have to climb in and out of his car anymore.
"I didn`t think that I would ever be able to get a car that's handicap accessible, but again I`m very appreciative of the organization, all the support I've gotten, thankful I can ride with my whole family in the car and not have to worry about room," Wagstaff said.
In March 2017, Wagstaff was one of the responding officers to a burglary in progress where he was shot in the head. He had surgery and was given almost no chance of survival from the doctors.
But now he`s going through physical therapy and making progress every day.
"I stood up by myself for the first time in I can`t remember how long. My therapist pushed me to stand up with the walker. They told me to take both hands off my walker, and I was able to stand on my own in I don`t know how long, which was amazing," Wagstaff said.
Thanks to the Cars 4 Heroes donation, he`ll never have to worry about transportation again.
"Means a lot. It will help me and my family both," Wagstaff said.