This is an archived article and the information in the article may be outdated. Please look at the time stamp on the story to see when it was last updated.
INDIANAPOLIS — The parents of an Indiana aid worker threatened with beheading by the Islamic State group say he told them in a June letter he's afraid to die.
Ed and Paula Kassig also say a former hostage told them their 26-year-old son  converted to Islam voluntarily when he was sharing a cell with a devout Syrian Muslim. Their son currently goes by the name Abdul-Rahman Kassig but was previously known as Peter Kassig.
At the end of a short video showing the apparent beheading of British aid worker Alan Henning, the man holding the knife, threatens Kassig's life.
On Tuesday, the FBI asked for the public's help in identifying an English-speaking militant who appeared to help execute Syrian soldiers in an ISIS recruitment video released last month.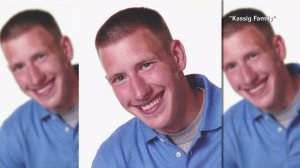 In a statement released to media Sunday, the Kassigs say their son told them in the letter that he's scared to die, but that if he does they should take comfort knowing he "went out as a result of trying to alleviate suffering and helping those in need."
The Islamic State group took the 26-year-old Kassig captive on Oct. 1, 2013.
"The hardest part is not knowing, wondering, hoping, and wondering if I should even hope at all," Kassig, 26, wrote to his parents. "I am very sad that all this has happened and for what all of you back home are going through."