This is an archived article and the information in the article may be outdated. Please look at the time stamp on the story to see when it was last updated.
BELTON, Mo. -- A Marine veteran who has been struggling to get to work received a gift Tuesday morning from Cars4Heroes, a not-for-profit organization that repairs donated cars and gives them to members of the military, veterans or their families.
Kyle Smith, his wife and baby did not expect to get a car when they arrived at Loch Lloyd Golf Course,16750 S Country Club Drive.
"This is a big surprise for me. I mean, it's very helpful to my family and I'm not a very emotional person but I'd like to thank everybody. I appreciate what you all do supporting our military and me," said Smith, a Marine veteran who was injured while serving in Afghanistan.
Smith now works as a security guard at Ford Leavenworth. Before Tuesday, he didn't have a car. To get to work each day he'd either have to walk the two-and-a-half miles or ask someone for a ride.
Deron Cherry, former Kansas City Chief, arranged for the presentation to happen at Loch Lloyd during the Deron Cherry Celebrity Invitational benefiting Camp Quality, a camp for kids with cancer, and Score 1, a program that provides free, in-school health screenings for elementary-aged children in the greatest need, including urban core and low-income families from under-resourced neighborhoods.
"I had tears in my eyes," said former Kansas City Chief Deron Cherry. "Anytime you can give a veteran something well-deserved, they sacrifice a lot for us."
According to Smith's biography, Smith had been in foster care his whole life. When he joined the Marines, he 'finally found a place that he could call family.' He was deployed to Afghanistan and was injured with a broken vertebrae.
Smith's wife recently lost her job. The Smith's have a 10-month-old son and another child on the way.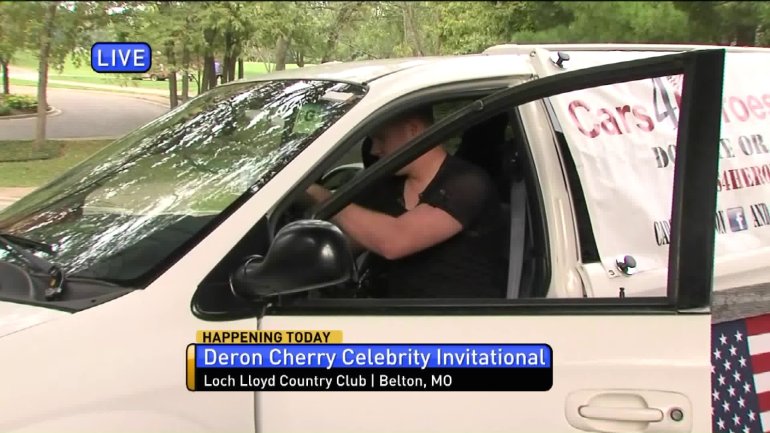 According to family, Smith met the donators of the van on a whim.  Smith was at his father-in-law's post when the former van owners drove by, stopped and spoke to Smith.  Photo below provided by Smith's mother-in-law.