This is an archived article and the information in the article may be outdated. Please look at the time stamp on the story to see when it was last updated.
KANSAS CITY, Mo. — A bug called the emerald ash borer is attacking metro ash trees and killing more each year.
So what can you do to protect your yard? And what is the next tree in crisis? FOX4 looked into the leaves for answers.
If you have an ash tree in your yard, a little bug can be a big threat, according to arborist Matt Evans with Ryan's Lawn & Tree.
"The emerald ash borer is a death sentence for any untreated ash tree in Kansas City. So within a few years of being infested, it will need to be removed because structurally it becomes a safety issue," Evans said.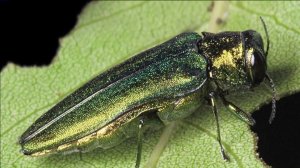 He said the bug showed up, uninvited, in 2012 and has hit metro trees hard.
"In Kansas City, ash trees were very popular years ago, and we`re poised to lose 20 to 25 percent of our canopy just for making that decision," Evans said.
If you have an ash tree, you can get it treated every couple of years. It will set you back around $300; however, if you wait, it can be more expensive.
"It makes it more difficult for an arborist to remove it safely, and a lot of times specialized equipment needs to be used and more expertise, which raises your cost as a homeowner," Evans said.
He said it's better to just replace it while you can with a different kind of tree.
"Until we plant diversity, we`re always going to cause the same problem," Evans said.
Evans said maple trees could be next.
"Maples are the number one planted tree right now and represent the majority of our forest here and have a whole host of problems. There are some exotic insects that are in the United States that are poised to damage our maple population as well," Evans said.
Ken Wood with Family Tree Nursery agrees there are a lot of maples in the metro.
"Yes, we probably have more maples than we should. People love them because they are colorful. They are quick growing. They are durable. There certainly are other options out there though," he said.
Wood said redwoods, black gums, beech and ginkgo trees are good choices.
"The best time to plant a tree was 20 years ago. Next best time is today," Wood said. "Get them in the ground, get them rooted, get them going. It is an investment in the future, and it`s something that`s going to be around for 20 to 50 years. It makes a house look like a home."
The way they treat ash trees is by injecting insecticide into it's base. It gets pushed to the top and keeps the bugs from attacking. Evans said it doesn't hurt the trees at all.