This is an archived article and the information in the article may be outdated. Please look at the time stamp on the story to see when it was last updated.
OVERLAND PARK, Kan. — Authorities have taken a person into custody on suspicion of arson at an Overland Park residence early Saturday morning.
Fire crews were called to a home near 165th Street and Metcalf Avenue around 6 a.m. Saturday.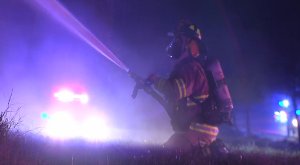 First responders reported seeing smoke and flames coming from the two-story, single family residence.
Crews also noted a small fire on the outside of a separate outbuilding.
Firefighters entered the home, but had to retreat due to the large volume of fire. They believed the home to be unoccupied, which a search later confirmed.
The home is a total loss. No one was injured in the blaze.
The Overland Park Fire Department called the fire an act of arson later Saturday.  The two separate fires led crews to suspect the fire was intentionally set.
Authorities said a further investigation revealed additional evidence to conclude the cause to be arson.
The Johnson County District Attorney's Office will review the case and make a decision on the charges.