This is an archived article and the information in the article may be outdated. Please look at the time stamp on the story to see when it was last updated.
GARNER, Iowa — A jury found a 78-year-old man not guilty of sexually abusing his wife with dementia. Henry Rayhons was charged with sexual assault after staff members at a nursing home told him she was cognitively unable to consent to sex. His wife had a shared room with another patient at the nursing home, who reported hearing noises that made her uncomfortable.
Rayhons testified that his wife, Donna Rayhons, continued to desire and even initiate sex.
He said on the night on which he was accused of sexual assault that he actually just kissed and held hands with her behind the curtain drawn around her bed.
The felony sexual assault charge could have sent him to prison for up to 10 years.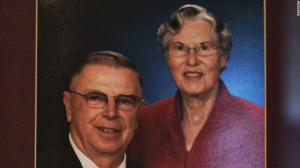 The couple met while singing in the church choir and married in 2007. During the trial, there appeared to be tension between Rayhons and two of his wife's grown daughters, who decided to move her to the nursing home.
Mr. Rayhons was reportedly told to limit his outings with is wife and was allowed to take his wife to church on Sunday.
Read more  about the case and the Rayhons marriage in the New York Times.