This is an archived article and the information in the article may be outdated. Please look at the time stamp on the story to see when it was last updated.
KANSAS CITY, Mo. — Jackson County Sheriff Mike Sharp will step down from his role, effective Thursday, after allegations emerged of an ongoing relationship with a female employee, with whom he also reportedly gave financial support, and took professional and personal trips at taxpayer expense.
Read Sharp's entire letter of resignation below: 
Dear Mr. White and Ms. Spino,
Due to a pending legal matter, and in order to avoid further disruption to the important work of the Jackson County Sheriff's Office, I have reached the conclusion that I will resign the office of Sheriff of Jackson County, Missouri, effective Thursday, April 19, 2018.
Respectfully,
Michael Sharp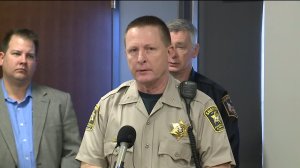 The allegations came to light in an ongoing lawsuit the employee filed against the county in 2016.
Newly filed court records state that Sharp gave Christine Lynde — an administrative assistant with the Jackson County Sheriff's Office — $8,000 as a down payment on a home after Lynde filed a sexual harassment lawsuit against the county.
The Sheriff's Office confirms that Sharp's resignation will take effect Thursday.
At one point Lynde was listed as the highest paid civilian employee at the Jackson County Sheriff's Office, according to court documents. In addition to multiple promotions and pay raises, Sharp gave Lynde a bi-weekly $240 car allowance and the ability to work from home.
Sharp took Lynde on professional and personal trips, which were funded in part with taxpayer money. Sharp acknowledged that he, his wife, and Lynde had a sexual relationship together, court documents say.
Mike Sharp released a statement on Wednesday.
"I allowed my judgment as Sheriff and my obligations to Jackson County be clouded because of my feelings for someone I cared very deeply for in the past. I am accountable for my actions. This was a personal failing and is entirely my responsibility."
Jackson County Prosecutor Jean Peters Baker issued the following statement on Sheriff Mike Sharp's resignation:
"My office was notified in late 2017 by the county counselor of concerns regarding a pending civil action involving the Sheriff. We contacted a law enforcement agency and began our own investigation into the matter. We also closely monitored the on-going civil litigation involving Jackson County. While the allegations that have come to light are extremely troubling, today's resignation satisfies the state's interest regarding a potential "quo warranto" action to remove the Sheriff from office. We will continue to monitor this matter and take any appropriate action in the future."
Jackson County Executive Frank White Jr. issued a statement Wednesday afternoon:
"Based up on the serious allegations made public today, the Sheriff has taken the appropriate action to step down. Under the authority of the Jackson County Charter, I have the responsibility to name an interim. I will be making an announcement regarding my appointment in the coming days."