This is an archived article and the information in the article may be outdated. Please look at the time stamp on the story to see when it was last updated.
KANSAS CITY, Mo. – A new monument is coming to Kansas City's east side to honor local civil rights activists.
County leaders broke ground on the "Monument to Freedom, Justice and Courage" on Wednesday inside the Leon M. Jordan Memorial Park at 31st Street and Benton Boulevard. The monument will feature two 8-foot-tall walls full of plaques that bear the names of local civil rights champions.
"It's a monument to recognize those who have contributed to the civil rights movement in Jackson County and to the cause of African Americans and other minorities here in Jackson County. So we want to recognize those folks," Jackson County legislator Alfred Jordan said.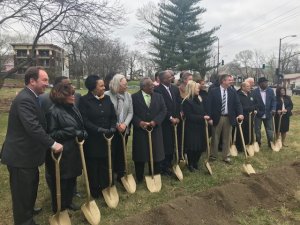 One hundred names of past and present leaders will be added to the monument each year for the next 10 years for a total of 1,000 names.
"I think people will come from all over as they do now to see this wall, see the names on the wall and really do some research. Think back to the past, go back and read about these people and what they contributed to the community," Jackson County Executive Frank White said.
Project leaders said there's no better place to house this monument than a park named after a former Kansas City policeman, politician and civil rights leader.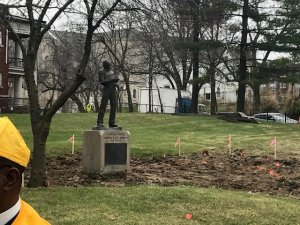 "The statue of Leon Jordan has been here for a while, since 1975 so we wanted to honor that legacy where the statue has been and place the monument to Freedom, Justice and Courage in the same place," Jordan said.
Jackson County Executive Frank White said he's proud to see this new addition to a neighborhood that's near and dear to many people in the community.
"I'm a product of this community," White said. "I grew up five blocks from here and just to be able to see it when it was really a great community and then see it after the riots in '68 and how long it`s taken for us to come back to — to even again the kind of attention it`s getting right now — I`m really excited about that."
If you want to nominate someone to have their name added to the monument, find a list of criteria on the Jackson County website. The deadline for nominations is 4:30 p.m. May 3.