This is an archived article and the information in the article may be outdated. Please look at the time stamp on the story to see when it was last updated.
KANSAS CITY, Mo. -- Jackson County Prosecutor Jean Peters Baker revealed at a Thursday afternoon news conference that two more suspects are implicated in a home robbery and subsequent assault of Independence Officer Tom Wagstaff. Two other men were charged on Thursday morning in the home robbery he was responding to on Wednesday morning when he was shot.
Officer Wagstaff survived life-saving surgery on Wednesday and remains in critical condition at a hospital. Baker asked for continuing community support for the officer who is fighting for his life.
"They serve us. They protect us. In short, they're our guardians. So when you or I dial 911, they don't ask when they pick up the phone, 'Have you paid your taxes?', 'How much money's in your bank account?' They don't ask they simply respond to the trouble. And when we run and hide from gunfire, they literally run to it all with the purpose of guarding us and protecting us. That's exactly what Officer Wagstaff did yesterday," Baker said.
"I'm also asking for prayers for this police department. They are under incredible strain today. They are feeling the pressure and the demands and the burden of this job. They do not carry this burden alone. We carry it with them. All of us, this entire community," she continued.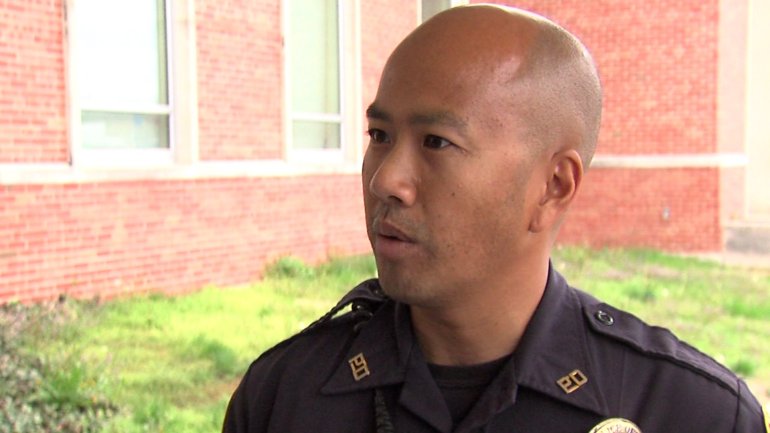 Joseph E. Wyatt, 28, and Ronar Santiago-Torres, 27, are both charged with first-degree robbery,  armed criminal action, first-degree burglary and kidnapping. Prosecutors have requested a bond of $500,000 cash for each. Prosecutors added assault against a law enforcement charges on Thursday afternoon against the suspects.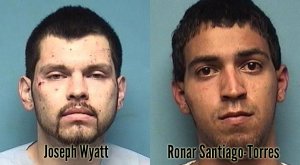 Prosecutors additionally charged two more men in this case. James McChan, 56, and Donald Nussbaum, 51, face first degree robbery, armed criminal action, first degree burglary and kidnapping charges for allegedly acting as accomplices. They'll be held on $500,000 bonds as well.
Court documents say that McChan and Nussbaum took Wyatt and Santiago-Torres to the home they're accused of robbing. Nussbaum admitted to driving the suspects there knowing they planned to rob someone. McChan also told police he dropped off Santiago-Torres and Wyatt a few blocks from the victim's residence.
At the news conference, Baker was asked about the possibility that Officer Wagstaff was injured by friendly fire, and not from gunshots fired by the suspects.
"We expected that we might receive a question like that from members of the media. Here's how I answer that question. The individuals that are responsible for the injuries to Officer Wagstaff have been charged. I hold them accountable in every possible way for his injuries and I will continue to do so. The investigation by the Kansas City, Mo., Police Dept. on behalf of Independence will continue here," she said.
"But it is possible. It is possible that through some kind of freakish event, or some kind of one in a million scenario that could not be expected and certainly couldn't be replicated in a lab if you tried to repeat it, that that incident could have happened at the scene. Beyond that I don't know how to answer that question but that we are still investigating, but I have the individuals responsible," Baker continued.
Prosecutors say one of the two suspects charged Thursday morning admitted to going to the home to rob the homeowner, restraining him with Zip-Ties and holding him at gunpoint. They're accused of repeatedly striking the victim, and when they heard police sirens, they stole the victim's car and fled through a closed garage door.
The homeowner told police two men, whom police later identified as Wyatt and Santiago-Torres, knocked on his door and said they were looking for a lost dog. He said he sent them away, but a few minutes later one of them returned and when they opened the door for the second time, one of the men had a black semiautomatic handgun with a long barrel and warned that it had a silencer on it.
The homeowner says Wyatt and Santiago-Torres then forced their way into the home and pushed the homeowner up against a glass door where they began beating him. He said they tied his hands in front of him with Zip-Ties and demanded that he direct them to his safe.
The homeowner told police one of the men held him at gunpoint while the other ransacked his home.
Once the suspects found the safe, they demanded that the homeowner tell them the combination. When the homeowner claimed he didn't know it, they beat him again and threatened to kill him. That's when the victim's friend noticed the unusual activity and called 911.
Court documents say when Wyatt and Santiago-Torres heard approaching sirens they asked the homeowner where his keys were, then went out to his garage.
Police said the suspects crashed the vehicle through the garage and led other officers on a high-speed chase. It ended in a crash off South Cedar Avenue a few miles away.
The stolen car and a police cruiser were both wrecked, but officers arrested Wyatt and Santiago-Torres. According to court documents, Wyatt had a handgun when taken into custody. That handgun traced back to the victim.
[protected-iframe id="4f46c89c4e59927ec7533e0a7607a7f6-28016812-38006261" info="https://www.facebook.com/plugins/video.php?href=https%3A%2F%2Fwww.facebook.com%2Ffox4kc%2Fvideos%2F10154709868298645%2F&show_text=0&width=560" width="560" height="315" frameborder="0" style="border: none; overflow: hidden;" scrolling="no"]