This is an archived article and the information in the article may be outdated. Please look at the time stamp on the story to see when it was last updated.
KANSAS CITY, Mo. — The Jackson County Prosecutors Office released a statement Saturday, along with a list of recent cases, regarding the disturbing trend of child abuse and death which have occurred in the metro area of late.
"We have recently seen in our Metro area an alarming and disturbing trend of our children falling prey to horrendous acts of violence," Jackson County Prosecutor Jean Peters Baker said in a prepared statement released Saturday.
"These children are an integral part of our community and they are defenseless, innocent and easily injured," Baker continued.  "Our children have been shot, beaten, burned and abused. Our metro area should not be a dangerous or perilous place for children to reside."
"It is our community's duty to protect them, to look after them. We must secure our weapons, never strike them when angry, get immediate medical care when they are injured, and report, report, report any suspicion of child abuse or neglect.  When kids are abused, neglected, in danger, shot, beaten, burned or abused, we should not walk to the police station to help; we should run for help."
"Failing to protect these children is society's greatest failing.  We must do better."
What follows is just a partial list of the many recent cases in which child have become victims of violence or neglect:
Friday, January 16: a 2-year old child is shot inside his south KC home
Sunday, January 11: 7-year old seriously injured after being struck by gunfire on I-70
Sunday, January 11: 14-year-old Alexis Kane, was found dead outside a South KC Water Park.
Friday, January 9: 2-year-old Lorenzo Estrada was beaten and died of his injuries on January 10.
Thursday, January 8: 7-month-old, J.S., was discovered with burns from injuries occurring earlier in December.
Wednesday, January 7: 3-year-old T.D. shot inside her KCMO home at 38th and Chestnut.
Sunday, January 4: 7-month-old Jaquail Mansaw killed inside a KCK home.
Friday, December 26: 4-year-old boy was struck by gunfire as his home on Hardesty was fired upon.
Friday, December 12: 2-year-old K.G.K., from Independence, sustained burns.
Sunday, October 26: 10-year-old Machole Stewart killed inside a KCK home.
Friday, October 17: 6-year-old Angel Hooper killed outside a South KC gas station.
In addition, we remember 10-year-old Kavyea Curry who was paralyzed from a shooting that also killed his father on Friday, April 19, 2014.
A 5-year-old was also in the car. And we remember Damiah White, just 3, who was found murdered in her home during on Friday, August 23, 2013.  Her and her mother's murder remains unsolved.  We await your call.  There is no statute of limitations on murder.
-Jean Peters Baker, Jackson County Prosecutor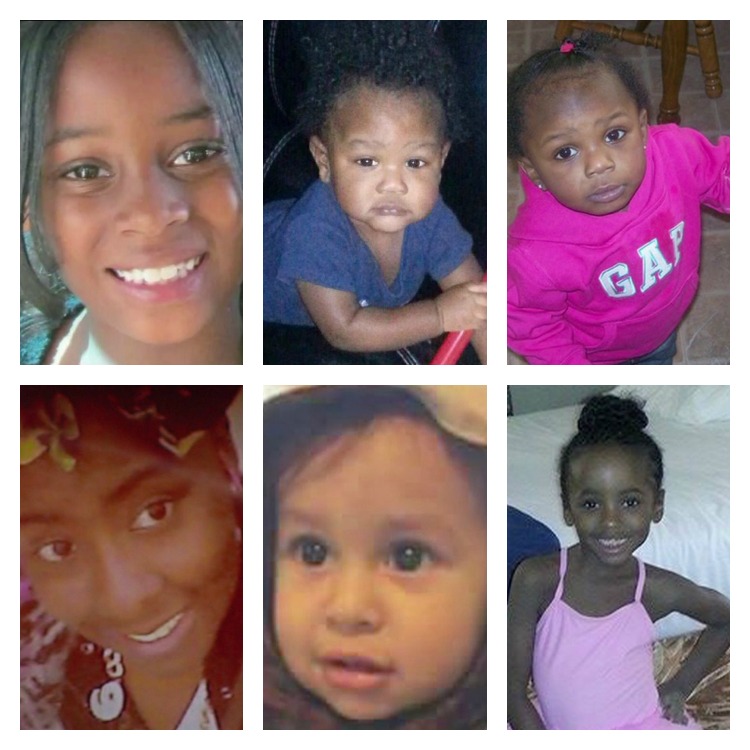 Pictured: Machole Stewart, Jaquail Mansaw, Damiah White, Alexis Kane, Lorenzo Estrada, Angel Hooper