This is an archived article and the information in the article may be outdated. Please look at the time stamp on the story to see when it was last updated.
KANSAS CITY, Mo -- Former Royals great and Jackson County Executive Frank White is playing in a new ballpark. This time, it's a court room.
Jackson County has filed a civil suit against more than two dozen pharmaceutical companies, blaming them for the opioid epidemic.
Jackson County is one of several jurisdictions across the nation, including Cook County, Illinois; New York City; the City of Newark, New Jersey; and 30 counties in California, suing pharmaceutical companies for taking an increasing number of lives and taxpayer money.
"I first got wind of it when I was sort of following the epidemic in Cleveland, Ohio," White said.
There were an alarming 500 deaths last year in Cleveland directly linked to opioid abuse.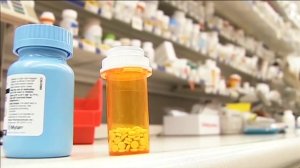 White wanted to know how bad the opioid problem is in Jackson County, so he worked with the legislature to set up a Prescription Drug Monitoring Program. It tracks pharmaceutical prescriptions.
"In 2017, there was somewhere around 636 prescriptions written per 1,000 people, and so that is staggering," White said. "And so we thought as Jackson County, it was time to step up and hold the people accountable that should be held accountable."
Jackson County has filed suit against more than two dozen pharmaceutical companies, arising from what the lawsuit calls, "the worst man-made epidemic in modern medical history. The misuse, abuse and over-prescription of prescription opioids."
From 1999 through 2016, more than 350,000 Americans have died from opiate overdoses. That's more casualties than in the Vietnam War. In 2016, there were 101 opioid deaths in Jackson County alone.
White said the drug companies are responsible.
"I had knee surgery back in 1990, and all that they gave me was Tylenol 3, and that seemed to be enough," White said. "I am telling all of my relatives who have surgery, 'Just be careful with the medication that you are taking because in 30 days you can be addicted to it.'"
The suit alleges that the pharmaceutical companies goal was simple: "To dramatically increase sales by convincing doctors to prescribe opioids not only for the kind of severe pain associated with cancer or short-term post-operative pain, but also for common chronic pain such as back pain and arthritis."
And that the drug makers did this "even though they knew the opioids were addictive and subject to abuse."
"Deceptive advertising sometimes adds to the problem. And I don't think you should ever get to the point where you put profit over safety, and I think that's the goal. That's where I see it," White said.
Missouri is the only state in the union that does not have a state-wide prescription drug monitoring program.
White said he hopes the state will follow what Jackson County and more than 60 other counties in Missouri are doing locally to track the use and prescriptions of opiates. He said that will save live and help control the epidemic that seems to now be out of control.