This is an archived article and the information in the article may be outdated. Please look at the time stamp on the story to see when it was last updated.
OLATHE, Kan. — The Johnson's County Sheriff's Office is asking for the public's help in the search for a vehicle, occupied by two male suspects, believed to be used in a kidnapping and sexual assault of a sheriff's deputy that happened Friday just before midnight.
The vehicle is a newer model (between 2014 – 2016) Mazda 4-door or similar body styled make and model, dark blue in color.
Authorities will hold a news conference Monday at 3 p.m. to give the latest details in the case.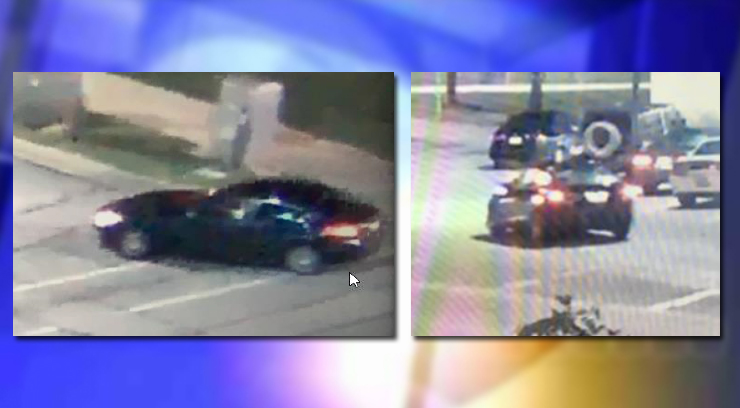 Police said around 11:30 p.m. Friday the car was seen in the area of 101 N. Kansas Avenue in Olathe, in a parking lot adjacent to the Johnson County Sheriff's Office Adult Detention Center.
An occupant of the vehicle, described as a white male, reportedly forced a female deputy into the car against her will in the parking lot as she walked to work at the facility.
Police said the deputy was sexually assaulted before the men released her from the vehicle at 1:30 a.m. Saturday near Interstate 470 and Woods Chapel Road in Lee's Summit. She was able to walk to a nearby Jackson County Sheriff substation.
Johnson County Sheriff Frank Denning held a conference where he said the deputy was going to work at the time. He said she had parked her car where the majority of employees park and was walking toward the facility when she was attacked. Denning said he believes she did not have a weapon with her at that time.
Denning said it appears the suspect(s) had been following the deputy for some time prior to the assault.
"It appears from some of the video footage that we have, there on Santa Fe, that the car was following her from about an area of Santa Fe and Ridgeview to the parking lot at the detention facility, and that would be probably a little over a mile," Denning said.
Denning said police are looking for two people that were in the vehicle.
The deputy, who Denning said has been with the sheriff's office for about six months, has been meeting with criminal investigators and was treated at the hospital.
"She's had a very trying day. It's been very difficult obviously, and it's been very difficult for our office as well," he said. "So we're giving her the appropriate amount of space that she needs right now, and then I'll be meeting with her, talking with her probably later in the week."
Denning said in his more than 40 years on the force, he has never seen a case like this.
"As the sheriff, you feel responsible for your employees anyway, and for something like this to happen that is — it's very tragic to see the least — but just to have a young person, a young woman assaulted like that it makes me angry," Denning said. "We're going to find out who these two are."
He said going forward, his office is looking to see if there are any possible extra security measures that need to be taken.
"The parking lot is lit. The parking lot does have cameras. We are looking at some of the photos, some of the footage rather, that we got there and it could be better, so I will be looking at that come Monday morning to determine whether or not we need to upgrade there," Denning said.
The sheriff added that even with upgrades, there is always the possibility of danger in law enforcement.
"We are the protectors, so I guess, you know, you take a lot for granted, at least I did, that given those situations that we can handle it, but the bottom line is we are all vulnerable, male or female," Denning added.
The sheriff said after the deputy was able to escape the vehicle, she was "very close to a Jackson County Sheriff's Office substation, and so she went there."
The vehicle appears to have both a front and rear license plate, police said, although the number is not available at this time.
Anyone with information is urged to call the Johnson County Sheriff's Office at (913) 522-0231 or the TIPS hotline at (816) 474-TIPS.
The investigation is ongoing. FOX 4 will have more as details emerge.