This is an archived article and the information in the article may be outdated. Please look at the time stamp on the story to see when it was last updated.
KANSAS CITY, Kan. —  Racial slurs, a swastika, and the words "Hail Satan" now deface a memorial in the Quindaro Townsite of Kansas City, Kansas.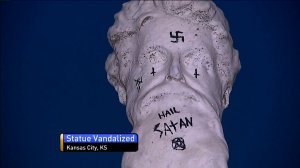 Someone vandalized the historic John Brown statue with racial slurs.
It's unclear when the John Brown statue was vandalized but the graffiti is still up Sunday night.
Written on it, racial slurs, a swastika, and the words "Hail Satan."
The vandals not only targeted the John Brown statue, but they also tagged a nearby audio tour sign with the n-word written several times.
Also on the statue, inverted crosses which in Christianity has been linked to St. Peter being crucified upside down, but it's also believed to be a Satanic symbol.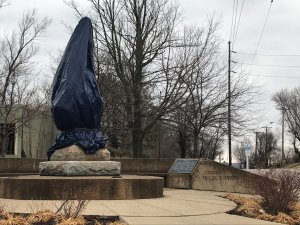 Someone also tagged the letters HCG on the statue which is synonymous with the Hoover Criminals, an African American street gang.
Loretta Norman has lived in the neighborhood for 91 years. She doesn't think this was done by anyone in her neighborhood but rather an outsider.
"You know, everybody's got their own thoughts now days, their own minds, and it seems like it isn't for the right reasons. I would say that. Seems like it's divided," Norman said.
Norman said she passes the John Brown statue everyday and didn't know it had been vandalized until we told her.
She said she's going to start paying more attention.
The site was established by abolitionists and was an important station on the underground railway, according to KansasTravel.org.
The statue was covered by plastic on Monday.
Police Chief Terry Zeigler tweeted Monday that a KCK officer who owns a side business that does monument work will be donating his services to remove the graffiti.
Officer Vallejo is going to donate his services to clear the statute when it stops raining. He has a side business that does monument work. https://t.co/RXqu3cvn3I

— KCKPD (@KCKPDChief) March 19, 2018