This is an archived article and the information in the article may be outdated. Please look at the time stamp on the story to see when it was last updated.
OLATHE, Kan. -- The two men accused of sexually assaulting a Johnson County deputy in October appeared before a judge Thursday afternoon and listened to the prosecution present its evidence against them.
The deputy testified at the preliminary hearing for William Luth, 24, and Brady Newman-Caddell, 21. The details were so emotional and sensitive that she didn't want anyone she knew to hear them. That included fellow Johnson County deputies and law enforcement officers, as well as her family and friends. Typically Johnson County deputies are in the courtroom to provide protection, but on Thursday during this hearing, Olathe police officers were brought in instead.
Luth and Newman-Caddell are behind bars, each on a $1 million bond.  Police say the men abducted the female deputy late Friday night, Oct. 7th outside of the Johnson County Detention Center in downtown Olathe as she was going to work. They're accused of forcing her into a blue Mazda 3 owned by Luth`s wife and driving around, raping her multiple times before letting her go in Missouri.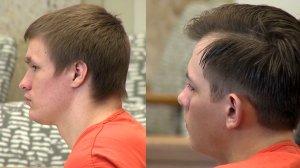 FOX 4 Shannon O'Brien was in the Johnson County courtroom and reports that the two men sat silently as the 22-year-old deputy recounted in painful detail her abduction from the parking lot of the Johnson County Jail as she was going to work. She then told the judge her rapists drove around and said William Luth raped her first. She said the men then switched places and said Newman-Caddell raped her,  before the men dropped her off in Missouri.
Prosecutors say they have DNA evidence linking both the men to the rape. The judge determined there was enough evidence to hold Luth and Newman-Caddell over for trial.
In December, Newman-Caddell was charged with another rape in Independence in February 2016. According to court records, police say Newman-Caddell told them he and another man went to the victim's apartment and had sex with her, while her child was in the bed with her. The victim told police she didn't fight the suspects and tried to make them think she wouldn't call police. DNA from the crime scene was later connected to the rape of the Johnson County deputy.
Luth is from Blue Springs, Mo., and Newman-Caddell is from Independence, Mo.
Man accused of raping Johnson Co. deputy now charged with 2nd rape