This is an archived article and the information in the article may be outdated. Please look at the time stamp on the story to see when it was last updated.
OLATHE, Kan. -- The Johnson County Sheriff's Office announced a $5,000 reward for information leading to the arrests of two men who ambushed, kidnapped and sexually assaulted a female sheriff's deputy late Friday night. Investigators now joined by the FBI continue to look for two white men believed to be in their late-teens to mid-20's who were driving in a 2015-2016 deep crystal blue Mazda 3.
The kidnappers followed the victim from a QuikTrip at E. Santa Fe and South Ridgeview to the central booking facility at 101 Kansas Avenue where the abduction occurred at about 11:30 p.m. The victim was released between 1 and 1:30 a.m. on NE Todd George Parkway in the area of I-470 and Woods Chapel Road where she was instructed to keep her head covered while they sped away.
She then walked north until reaching the Jackson County Sheriff's Office in Lee's Summit where she got help.
Here's the vehicle we're looking for in our Deputy's abduction.2015-2016 Mazda 3 w/2 plates.1 could be vanity.Color Deep Crystal Blue. #JCSO pic.twitter.com/grQQt3Mxrt

— Johnson Co. Sheriff (@JOCOSHERIFF) October 10, 2016
Captain Brian Hill revealed that the office submitted biological evidence to CODIS that returned two separate male DNA profiles, though IDs haven't been established yet. They hope to have composite sketches by Tuesday, and also want the public to be on the lookout for a pink Nike duffel bag.
"Our victim was carrying a pink Nike duffel bag," Cpt. Hill said. "When she got out of her vehicle it was with her. She had some work-related items in that bag. When she was forced into the vehicle the bag went in with her. When she was let out it did not come out with her. So, we are assuming at least at that time it was still in the vehicle. We don't know where that bag is right now."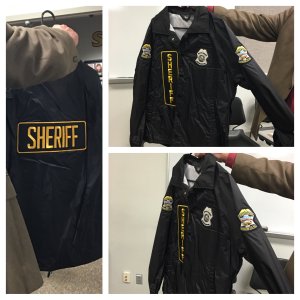 A black sheriff's office windbreaker with logos was in the bag. Sheriff Frank Denning said the victim is helping with the investigation, and while her head and face were covered, she described from glimpses that the men were clean cut, wearing blue jeans, and traveled primarily on side streets and gravel roads based on what she felt and heard.
There's no evidence that the men knew the victim prior to the attack, but there was likely planning involved.
"Our suspect vehicle at the QuikTrip pulls into a gas pump basically. Neither subject gets out of the car. Nobody pumps any gas. Nobody throws anything away, and sits there until our deputy leaves. At the time she backs out and leaves, he exits and follows her and we have a pretty good camera trail from the QuikTrip all the way to the parking lot. So it appears evident to us that although they may not have specifically have been looking for our victim, they were looking for a victim," said Cpt. Hill.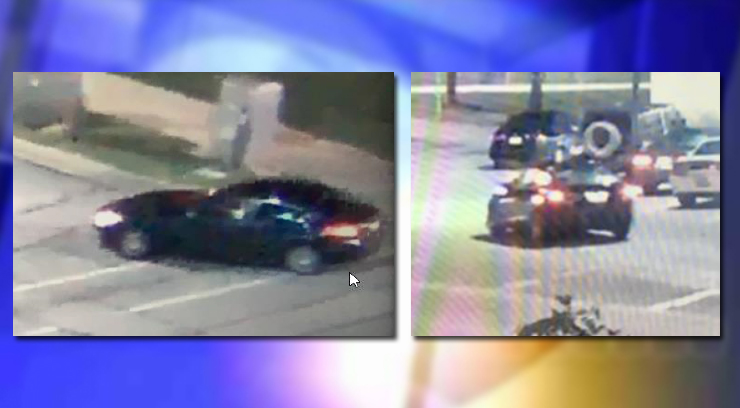 Investigators say the men are dangerous and need to be arrested. No license plate information has been released past the fact that the vehicle had front and rear plates. Anyone with information that will assist investigators is urged to call the sheriff's office at (913) 782-0720 or the TIPS Hotline at (816) 474-TIPS.