This is an archived article and the information in the article may be outdated. Please look at the time stamp on the story to see when it was last updated.
KANSAS CITY, Mo. — The Kansas City Chiefs were putting on their defense when a fumble by the plaintiff brought it to a halt. A visiting judge Thursday ordered a mistrial in a fan's lawsuit against the football franchise.
Adrien Caye alleged in his lawsuit that he suffered permanent injuries when another fan, drunk and unruly, threw him down some stairs during a game at Arrowhead in October of 2013. Caye testified last week that the injuries are permanent, and have impacted his career, marriage, and even ability to be a good father.
The plaintiff rested, and Tuesday's trial resumed with the Chiefs presenting witnesses. Wednesday, court documents revealed the Chiefs had called a defense expert witness. On cross-examination, Caye's attorney asked about an event at Arrowhead Stadium that happened after Caye's injuries. The question was heard by the jurors. The Chiefs' lawyers objected, and moved for a mistrial.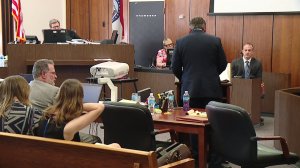 Judge Roger Prokes immediately halted the trial, and heard arguments on whether the question would affect the ability for the Chiefs to get a fair trial.
On Thursday, the judge sided with the team, and declared a mistrial. The jury was dismissed. The order says the judge will set a hearing to determine the next steps in the case.
Caye's attorneys tell Fox 4 News they plan to move forward with the case when a new trial date is set.
Click here to read more of FOX 4's coverage on the case from November 2015.