This is an archived article and the information in the article may be outdated. Please look at the time stamp on the story to see when it was last updated.
KANSAS CITY, Mo. -- A Jackson County judge ruled Monday afternoon on three requests from the defense attorney for Brandon Howell, 34, the man accused of killing five people in South Kansas City on Sept. 2.
So far, Howell is facing three counts of first-degree murder for the shooting deaths of Alice Hurst, 88, her son Darrel Hurst, 63, and Susan Choucroun, 69.
George Taylor, 80 and Ann Taylor, 86, were also severely beaten in the violence that Tuesday morning and were removed from life support and passed away on Thursday, Sept. 9.  Prosecutors have not yet filed charges against Howell for their deaths.
On Monday, Judge Mary Francis Weir ruled that Brandon Howell, could appear in street clothes to avoid an appearance that would be prejudicial. She also approved a request to allow Howell to wear only leg braces under his pants instead of visible restraints like handcuffs and shackles.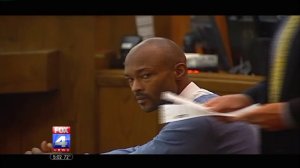 During his hearing, Howell wore a crisp white shirt under a blue sweater instead of an orange jumpsuit. Reporters were told they could only record Howell sitting at the defense table. Cameras could not be rolling when he was walking into or leaving the courtroom. Reporters were also not allowed to record audio.
The judge denied a motion by the defense to have a stenographer record grand jury proceedings. Howell's attorney said it would ensure truthful testimony and wanted to impeach witnesses if their grand jury testimony was different from their trial testimony, but Judge Weir did not allow it.
Prosecutors say Howell shot and killed the Hursts and Choucroun when they witnessed him stealing the Taylors' SUV. Police said prior to the shootings, Howell brutally beat the Taylors in their home.
Howell's preliminary hearing is set for Sept. 25 at 2 p.m.
Meanwhile, people in the Woodbridge neighborhood are hoping to build a memorial to honor and remember the five victims. They have a meeting Thursday night with Prosecutor Jean Peters-Baker, the mayor and the police chief, then hope to begin the process of raising money for the memorial.