This is an archived article and the information in the article may be outdated. Please look at the time stamp on the story to see when it was last updated.
KANSAS CITY, Kan. -- A jury ruled Thursday that two Schlitterbahn maintenance workers accused of obstructing the investigation into the deadly water slide incident involving a 10-year-old boy are not guilty.
David Hughes and John Zalsman were accused of lying specifically about the brake mat used on the Verruckt water slide that 10-year-old Caleb Schawb was riding when things went terribly wrong in the summer of 2016.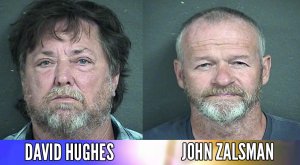 The charges against these men are the first to go to trial among a series of defendants accused of crimes in Schawb's death.
The raft Schwab was riding somehow went airborne and hit a metal pole overhead. He died at the park from his injuries.
Prosecutors said the men tried to mislead investigators by saying the brake mats were only there during testing.
The defense team for both men said there were seasons when no mats were on the slide, so it makes since the maintenance workers would forget or get it confused.
"They are good ole boys. Both of these gentlemen are tremendous, hard-working guys. Never been in trouble before. They are good employees," defense attorney Scott Toth said.
Defense attorneys said the men were singled out, calling their clients hourly employees who had no motive to lie.
Jurors told FOX4's Nicole DiAnontio it was not their job to find who was guilty in the death of Schwab. Instead, Thursday's case all centered around the missing brake pad on Verruckt water slide and whether the men knowingly lied to investigators about it.
Ultimately, the jury felt they didn't have the evidence to prove Hughes and Zalsman knowingly mislead officers.
In court Thursday, Hughes showed no real emotion during closing arguments, and Zalesman had his eyes closed, looking down at his hands for most of it.
Both Hughes and Zalsman declined to comment to FOX4. Their attorneys said they plan to continue working at Schlitterbahn.
"To me the idea that a blue collar maintenance worker is going to try and throw off a KBI investigation -- for what?" defense attorney Chris Joseph said Thursday.
The KCK water park's co-owner Jeff Henry, slide designer John Schooley and former park operations manager Tyler Miles have been charged in connection to the boy's death. All three have asked for separate trials.
Schlitterbahn itself also faced charges, but that case was dropped in April.