This is an archived article and the information in the article may be outdated. Please look at the time stamp on the story to see when it was last updated.
ORRICK, Mo. --  The jury trial begins on Monday in Clay County for Randy Garrison, 35, charged with two counts of 2nd degree murder for the deaths of his two sons ages three and 21-months old.
The trial is held at Clay City Circuit Courthouse, 11 South Water Street,  Monday morning at 8:00.
In December 2013, Garrison's sons, Roger Wayne, 3, and 21-month-old Ashton Michael were trapped inside the burning house in Orrick, which is about 35 miles northeast of Kansas City.
Originally charged with child endangerment, Ray County prosecutors dismissed the child endangerment charges and filed the murder charges as well as an arson charge and two counts of child abandonment. Garrison applied for a change of venue from Ray County to Clay County nearly a year ago on March 8, 2017.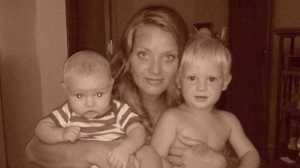 Police believe Garrison was not inside the trailer at the time of the fire; that he left them alone, although Garrison claimed he was there and tried to save them and suffered burns and injuries in the process.
In December 2013, Garrison told FOX 4 that he returned home from a 24-hour shift around 6 a.m. on Tuesday, Dec. 10 and went straight to bed. He said he later woke to the sound of his sons screaming at about 11:30 a.m. He told FOX 4 that the boys' mother was not home.
"Woke up hearing them screaming at the top of their lungs," he said in December. "Flames in my bedroom and flames in the hallway, flames through the whole house."
Garrison said he first tried to bust through his bedroom wall but couldn't. That's when he says he ran into the hall and tripped. He said he tripped over a bungee cord or something that was holding the boys' door shut.
Garrison told police that a few days earlier Tamara Willis, the boys' mother, threatened to kill him and the boys. He claimed she left the house without telling anyone.
But Willis told police she woke up Garrison before she left the house to run errands.
In the probable cause statement outlining the original charges, police said the medical staff that treated Garrison did not see any burns on his face, hands or clothing. A nurse reported that Garrison, although he claimed to be in the smoke-filled house for some time, did not cough as she would expect from someone who inhaled so much smoke.
"I just knew from the very first that the story he told was not right. I'm glad the police discovered that also," said Marjorie Long, the children's grandmother in 2013.
Police also say Garrison's story doesn't add up because they believe the boys would not have been able to scream, as they were overcome with smoke. They also say in addition to no evidence of burns on his hands, feet or face, Garrison's white shirt was not soiled with soot, burns or smoke.
In the probable cause statement and affidavit detailing the new charges filed on June 1, 2016, the Ray County prosecutor notes the inconsistencies in Garrison's statements about the size of the fire, the boys' screams, and how he tried to save them.
Read the complete, 11-page probable cause statement by clicking here.
Continue to follow FOX4 for coverage of the trial and the verdict reached.
Earlier report from December 2013:
Earlier coverage: