This is an archived article and the information in the article may be outdated. Please look at the time stamp on the story to see when it was last updated.
SPRINGFIELD, Mo. — A jury found Craig Wood guilty of first-degree murder Thursday afternoon for the February 2014 killing of Springfield 10-year-old Hailey Owens.
Prosecutors will now pursue the death penalty against Wood in a separate week-long court proceeding.
Wood, 49, pulled Hailey into his truck while she was walking to her Springfield home on the afternoon of Feb. 18, 2014.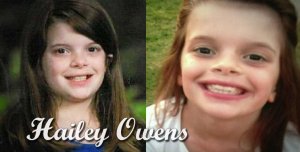 Prosecutors say Wood then raped Hailey, took her down to his basement and shot her to death.
The girl's body was found hours later inside a plastic tub in Wood's basement.
Wood's defense attorneys had argued Wood did not deliberate so second-degree murder would be more appropriate. The jury disagreed.
The jury deliberated for about an hour before returning the verdict against the former middle school football coach.
Wood's attorney argued during closing arguments that Owens' death was unplanned. During the trial, a witness testified that he was raking leaves when he saw Wood pull Hailey into a pickup truck. The man ran after the truck but was unable to get to the girl. His wife called 911 and reported the truck's license plate.
Here were some of the stories Fox 4 posted following Hailey's disappearance:
Man who chased kidnapper remembers little girl's smile
Best friend remembers Hailey Owens for her humor and energy
Three years, three girls abducted, killed in southwest Missouri