This is an archived article and the information in the article may be outdated. Please look at the time stamp on the story to see when it was last updated.
CASS COUNTY, Mo. — They don't call him "Champ" for nothing. A Cass County Sheriff's K9 unit is recovering after sustaining a stab wound in pursuit of a suspect Monday.
Zachary T. Wilbanks, 17, of Harrisonville, Mo., was charged with resisting arrest and assault on a police animal.
Cass County Sheriff's deputies responded to a scene near 291 Highway and S. Commercial Street in Harrisonville around 5 p.m. Monday to assist Harrisonville Police engaged in a foot pursuit of a suspect, police said in a news release.
A Cass Co. Sheriff's deputy and his K9 partner, Champ, located the suspect near a business on Rock Haven Road. The suspect disregarded the deputies commands to surrender and kept running away.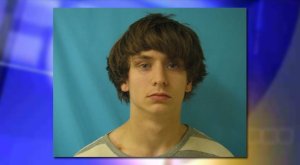 Police said the suspect then ran into a field, where Champ surged ahead alone, and the deputy lost sight of him and the suspect. The deputy said he heard a bark and a yelp, and Champ returned to him just before deputies captured the suspect.
Champ's handler didn't even know the dog had been stabbed until he found blood covering the kennel area of his patrol car. He found a wound to Champ's neck and transported him to Raymore Veterinary Clinic, where medical staff found a 1½ inch stab wound to the side of Champ's neck.
Doctors said the injury does not appear to be life-threatening.
Champ is resting at home with his handler and is being closely monitored.
Wilbanks remains behind bars in the Belton Police Department jail. Police did not specify what initially spawned the chase.