This is an archived article and the information in the article may be outdated. Please look at the time stamp on the story to see when it was last updated.
WICHITA, Kan. — Authorities searching for a missing 5-year-old Kansas boy have scoured a nature park and set up a tip hotline.
The Wichita Eagle reports that police said they received a call at about 6:15 p.m. Saturday to report Lucas Hernandez was lost in southeast Wichita. When officers arrived, Lucas' 26-year-old stepmother said he was last seen at about 3 p.m. Saturday in his bedroom before she showered and fell asleep.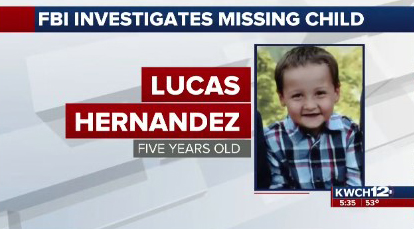 Officers and dogs have searched his home, neighborhood and the 216-acre Chisholm Creek Park. Officer Charley Davidson said Sunday that police have found no evidence that suggests Lucas was abducted.
An FBI team is assisting police. Lucas has brown hair and eyes and weighs about 60 pounds. He was last seen wearing a gray shirt with a bear on it.
Monday afternoon, KWCH in Wichita reported that police were stepping up their search, employing mounted units and an ATV searching an area in Dr. Glen Dey Park (formerly Grove Park) on N. Grove Street.
Wichita Police Department provided a brief update, urging anyone with information to contact them.
"We continue to investigate the situation thoroughly," Officer Charley Davidson of the Wichita Police Department told KWCH, "and also investigate each and every lead that we've been receiving."
Davidson told the Wichita Eagle that police have found no evidence of an abduction, which is why they have not issued an Amber Alert.
On Saturday night, Kristin Edson, the cousin of Lucas's step-mom, told KWCH that the boy's parents are devastated.
"Very distraught. Very upset. Devastated. I mean, can you imagine? They're just very distraught and worried about his safety. It's cold out. We don't know where he's at," Edson said. "All I know is that they took a nap around three-ish and she woke up with the baby around 6 to check on Lucas to see if he was in his room. She searched. The back door was open, and she called 911."
Edson added that Lucas may also be identified by a discernible speech impediment, and said he is shy around strangers.
"He does have a speech impediment, so it's kind of hard to understand what he's saying when he talks sometimes. He's very shy if he doesn't know you. If he does know you he's willing to come out and talk to you."