This is an archived article and the information in the article may be outdated. Please look at the time stamp on the story to see when it was last updated.
OVERLAND PARK, Kan. — People of all faiths are invited to come together to mourn and honor the victims of Sunday's deadly shootings outside the Jewish Community Center and Village Shalom.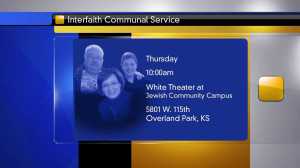 The Interfaith Service of Unity and Hope is at 10:00 a.m. Thursday, April 17 at the Jewish Community Center of Greater Kansas City, 5801 West 115th Street, inside the Lewis and Shirley White Theatre.
The service is expected to last 45 minutes. All are invited. In the public invitation, the service was described as a time for clergy to lead us in prayers of solace, healing and hope.
"We encourage all to support the victims' families in their sorrow and to unify, as a community, around the values of faith and hope."
U.S. Attorney General Eric Holder announced his plans to attend, as well as Kansas Gov. Sam Brownback, Overland Park Mayor Carl Gerlach.
Clergy and others participating in the service include:
Rabbi Arthur P. Nemitoff, The Temple, Congregation B'nai Jehudah;
Rev. Adam Hamilton, United Methodist Church of the Resurrection;
Fr. Stephen Cook, St. Peter's Catholic Church;
Rev. R. Glen Miles, Country Club Christian Church;
Rabbi Jeffrey Shron, Kehilath Israel Synagogue;
Rev. Robert Lee Hill, Community Christian Church;
Hazzan Tahl Ben-Yehuda, Congregation Beth Shalom;
Cantor Sharon Kohn, The Temple, Congregation B'nai Jehudah;
Jacob Schreiber, President and CEO of the JCC; and
Matt Lewis, President and CEO of Village Shalom.
Click here for information on funeral services for Reat Underwood, Dr. William Corporon and Terri LaManno.