This is an archived article and the information in the article may be outdated. Please look at the time stamp on the story to see when it was last updated.
KANSAS CITY, Kan. -- Two suspects being held in connection to the murder of Captain Dave Melton, 46, were described Wednesday during a news conference as two 'young men', one 18 and the other 20-years old. Neither has a significant criminal history, according to the police chief. Sources tell FOX 4 that the 20-year-old man is being held on suspicion of first-degree murder. The 18-year-old is being held on suspicion of aggravated assault on a law enforcement officer and use of a deadly weapon.
Neither has been charged, but prosecutors expect to file charges Thursday.
Police also believe these two are the only two involved with the crimes that ended in Melton's murder.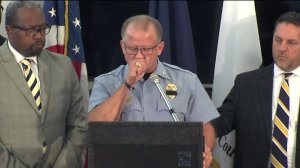 After explaining the series of events (described below) that occurred with the young suspects, Kansas City, Kan., Police Chief Terry Zeigler took a few deep breaths and his voice faltered as he began to read the remainder of his statement.  Mayor Mark Holland patted him on the back and told him to take his time.
Then Chief Zeigler said the following:
"On behalf of the men and women of the Kansas City, Kan., Police Department, and the Melton family, we would like to thank our community for the outpouring of support. We know that you share our pain.  We thank our local federal law enforcement and our Kansas City, Kan. Fire Department for their assistance yesterday and in the days to come. This crime does not fit the national narrative of planned attacks against law enforcement officers but it does fit the narrative when it comes to the fact that words matter. That hate and anti-police speech has got to stop because the consequences are real. Our blue line just got a little thinner yesterday with the loss of Captain Melton. This incident involved a suspect who committed a violent crime in our community and murdered Captain Melton as a result of trying to avoid being apprehended.  But make no mistakes, officers of the Kansas City, Kan. Police Department will continue to fight for the safety of our community and we will not apologize for confronting evil and removing it from our community.  Our citizens deserve to live in a community that is free of crime," said Zeigler.
The Reverend Jimmy Banks, pastor at Strangers Rest Baptist Church, 2052 N. Fifth St., then approached the microphone and called for a Community Day of Prayer for Kansas City, Kan., and Wyandotte County on Sunday, July 24, to begin healing.  He also said local clergy would begin next week to lead citizens in conversations about these important issues.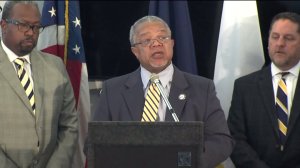 "For now we call on our community to a time of reflection and discernment for how we might rise above the fear and divisions that grip our nation. We cannot let tragedy and evil lead us down a dark path of suspicion and distrust," Rev. Banks said. We call upon everyone to lift up our law enforcement officers in our thoughts and in our prayers. We call on our law enforcement to continue to have faith in the good hearts of our community.  Together we will persevere to a brighter tomorrow. We have faith Kansas City, Kan., Wyandotte County, will set an example grieving with hope and unity. We have faith Kansas City Kan., Wyandotte County will answer evil with love for one another."
A candlelight vigil is scheduled for 8 p.m. Wednesday at City Hall, 701 N. Seventh St.
"Our officers do have some stress and increased anxiety. There's no way they couldn't . The outpouring of support from our community, local law enforcement, federal law enforcement, it means a lot. Because it's the voice that rarely do our guys on the street, answering the 911 calls, get to hear and see," Zeigler said.
He said the cookies, flowers, and other support shown has lifted the spirits of officers.
Chief Zeigler explains the call that led to Captain Melton's death
Kansas City, Kan., Police Chief Terry Zeigler says the series of events that led to the death of Captain Melton began Tuesday, July 19, when a citizen called police to report 3-4 young men inside a burgundy Grand Prix  shooting a gun in the area of 2nd and Edgerton.
Shortly thereafter, an officer who was on routine patrol saw a burgundy Grand Prix near 15th and Haskell driving the wrong way.  The officer went after the vehicle to stop it for the traffic violation, but the driver fled.
The officer briefly pursued the car, but then stopped because the nature of the crime was only a traffic violation. At that time, the description of the suspect vehicle from the shooting had not yet been broadcast to the officers in the field.
Once it was a few minutes later, officers on patrol located the vehicle in the area of 15th and Rowland. The officer provided a description of the suspects, who eventually bailed from the vehicle and took off running on foot. When they bailed from the vehicle, the driver of the vehicle was taken into custody immediately without incident.
Captain Melton was out on patrol and was in the area of 22nd and Georgia, heard the call, and went to assist. At 1:58 p.m., Captain Melton and another officer, spotted a suspect in the area of 22nd and Georgia. Captain Melton sped to the suspect location, cutting him off, or boxing him in with his police vehicle.
"The suspect produced a handgun and fired several shots into the passenger side of Captain Melton's patrol car through the window, which was halfway down.  At the time of the shooting, Captain Melton was trying to exit his patrol car to engage the suspect. Captain Melton was shot several times and officers at the scene begin rendering aid immediately," said Chief Zeigler.
Chief Zeigler said Captain Melton was wearing his protective vest at the time.
Captain Melton was taken to the hospital "where he ended his watch"  at approximately 2:55 p.m.
Melton leaves behind two children, and is expecting a third child with his girlfriend, due this winter. He has nine siblings, four brothers and five sisters.
Mourners are invited to the visitation for Capt. Melton on Friday, July 22 from 4:00 p.m. to 8:00 p.m. at The Jack Reardon Civic Center, 520 Minnesota Avenue. The funeral is at 9:00 a.m. Saturday, July 23, at Children's Mercy Park, One Sporting Way.