This is an archived article and the information in the article may be outdated. Please look at the time stamp on the story to see when it was last updated.
KANSAS CITY, Mo. -- Residents were awakened by the crash of an out-of-control car early Monday morning, and feel rattled and saddened by the discovery that both people in the car were killed.
The single car crash near Samuel L. Rodgers Health Center at Brooklyn and East Ninth Street is the first traffic-related fatality in Kansas City in 2017.
"Boom! Just boom! You know something hit hard," said Nancy Stump, a neighbor. "We've seen a lot of accidents down at that corner within the past, you know, but nothing like that."
Police say two men were in the car that hit a fence, went across the health center's parking lot and knocked down a second fence before crashing into an office building at about 2:00 a.m., January 2nd.
Because of the New Year holiday people who would normally be inside the building at the time of the crash, were thankfully not.
"I heard a boom and I thought, 'Ok. That's just the trash man out picking up trash,'" said Stump.
Police believe the two men were in the small, silver car heading west on Ninth Street at a high rate of speed when the driver lost control between Park and Brooklyn streets.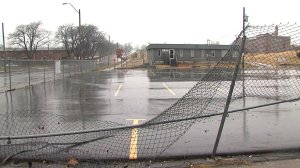 When they crashed head-on into the office building, the passenger died instantly. Paramedics rushed the driver to the hospital but he later died.
"It's sad that people do that. We don't know or what might have happened that led to it. Why were they going so fast?" wondered Gary Stump.
"I thought about it all morning long," said Nancy Stump.
As of Monday evening, police had not released the men's names or if they were related.
"Prayers and thoughts definitely go out to their family," said Nancy.
Police urge anyone who witnessed the deadly car crash to call police.