This is an archived article and the information in the article may be outdated. Please look at the time stamp on the story to see when it was last updated.
KANSAS CITY, Kan.– The man charged with killing Kansas City, Kan., police detective Brad Lancaster, 39, will be confined to the detective's handcuffs when he's taken to jail.
On Tuesday, Kansas City, Kansas Police Chief Terry Zeigler tweeted out a picture, saying that Kansas City, Mo., police will escort Curtis Ayers, 28, from the hospital to jail using Detective Lancaster's own handcuffs.
"Words cannot express what this means to our Department," Chief Zeigler tweeted.
Police in Kansas City, Mo., shot Ayers after a chase that crossed state line and ended on 71 Highway near Bannister Road.
To honor Lancaster, Kansas City, Mo., police obtained Detective Lancaster's handcuffs and put them on Ayers before transporting him to the Jackson County Jail. Jackson County authorities, charged Ayers with first degree assault, three counts of armed criminal action, two counts of unlawful use of a weapon, and resisting arrest.
Words cannot express what this means to our Department. @KCPoliceDept @ChiefForte pic.twitter.com/sNAwwhXIJM

— KCKPD (@KCKPDChief) May 17, 2016
On Saturday, Lancaster was remembered by thousands during a service at Children's Mercy Park, 1 Sporting Way, in Kansas City, Kansas. He survived by his wife, two daughters, ages 9 and 10-years-old, and his mother.
Ayers faces a capital murder charge, among others in Wyandotte County.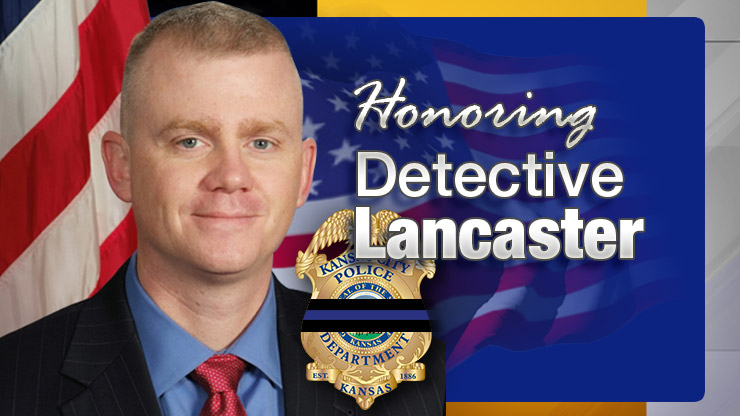 Ayers remains at a metro hospital. FOX 4 previously reported he had been taken to jail in the handcuffs based on information provided to us by police, but we have since been told that Ayers won't be released from the hospital until a chest tube is removed. He'll initially be held in Jackson County, Mo., detention pending extradition to Wyandotte County.