This is an archived article and the information in the article may be outdated. Please look at the time stamp on the story to see when it was last updated.
KANSAS CITY, Mo. -- Kansas City, Mo. police officer Nathan Harrison, 34, thanked on Thursday those who helped save his life in December. It was part of Research Medical Center's effort to reunite first responders and emergency physicians with three patients whose lives were saved due to quick and courageous actions of these medical professionals.
Harrison doesn't remember anything about the crash; but police said he ran off the road, hit a sign and a pole, and then lay in a ditch for several hours before a passing driver saw him along I-435 and Highway 71 on the morning of Thursday, Dec. 10, 2015.
He lost a leg and his sight and has spent months in rehabilitation.
"I'm alive and well and doing better than most of the doctors, if not all of the doctors and nurses, thought I would be," he said.
"I don't think it was just carelessness or something like that," Harrison said. "I think it was maybe debris or an animal or something along those lines, but it would definitely be nice to know for sure," Harrison told FOX 4's Katie Banks in April.
Harrison says he remembers the hit, but was in total shock and felt no pain. He says he tried to reach for his phone before he blacked out. He also says he saw bright lights and his deceased father, who died a few years before from cancer.
"I remember getting within inches of touching him, and then everything went blank," he said.
After that, he remembers looking up and hearing the two paramedics. He says he's still recovering and still can't remember parts of the crash. He can't wait to get a new prosthetic for his right leg and hopes to be on a motorcycle again someday.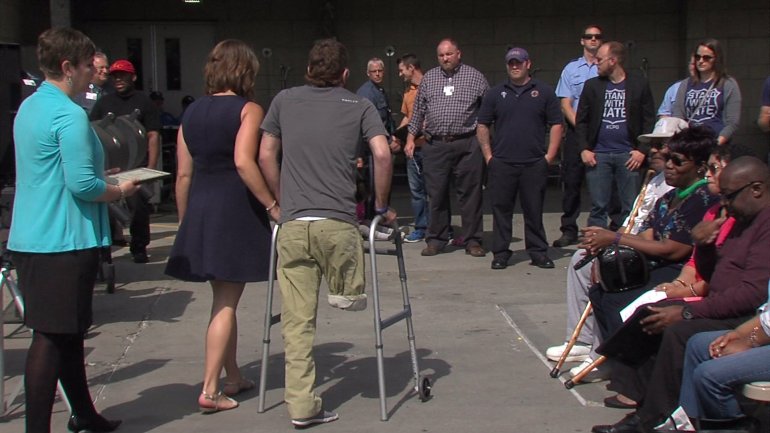 In addition to Harrison, two other patients met and thanked those who contributed to their second chance at life. Nechie DeBerry, 54, had heart arrhythmia and had to have his heart shocked ten times in the ambulance and then at the hospital. John Lucchi, 68, woke up feeling weak and his wife recognized the symptoms and called 911. Paramedics and doctors responded quickly to his mini-stroke and gave Lucchi 'meticulous' care.