This is an archived article and the information in the article may be outdated. Please look at the time stamp on the story to see when it was last updated.
KANSAS CITY, Mo. -- A Kansas City veteran is taking love of country to a whole new level.  He's been spotted running all over the Northland carrying a huge American flag.
Elliot Timms is a man on a mission.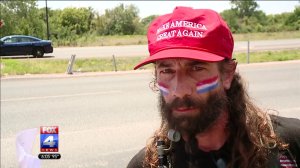 "For me, the American flag has always been a unifier, not a divider," Timms said.
On July 4th last year, he had a kind of crazy, but powerful idea.  He picked up an American flag, and just took off running.
"This display of patriotism is just a small act of humility, hardship and sacrifice to express my commitment and devotion to love of country.  It's my way of showing the entire country what America, and being an American, means to me," said Timms.
Timms is a military veteran who served two tours of duty in Afghanistan.  Like a lot of people, he'd become frustrated with the anger and political division in the country.
"I'm countering voices of negativity and defeatism in our country with a more uplifting, proud, and powerful gesture of patriotism, because those negative voices don't speak for all of America," he said.
Nearly every day the past year, no matter the weather, he's picked up the flag and gone running.  He usually stays along major roads in Kansas City's Northland, but has taken the flag, and his message, across the country, too.
He's been to Washington, D.C. three times, and leaves Thursday to run through Alaska.
"When people see me running across the landscape with the American flag, perhaps it will cause them to pause for a moment and consider the meaning, value and importance of that flag and our country represents," Timms said.
He's drawn quite a following, with people often showing their support as he passes.  And fans sometimes stop to take pictures or snap videos of him as he runs, then share them on social media.
"It's overwhelming, and I'm humbled, and given a sense of pride," he said.
And he hopes his boldness and passion inspire all of us to put aside our differences and remember our values as a nation.
"Showing support for the president and being patriotic should be a given in our country," said Timms.
Elliot Timms doesn't run to raise money or bring attention to himself.  He hopes to raise awareness of veterans issues, while encouraging everyone to love this country and support its leadership.