This is an archived article and the information in the article may be outdated. Please look at the time stamp on the story to see when it was last updated.
KANSAS CITY, Mo. — Jackson County prosecutors charged a woman with murder on Monday who is suspected of killing a man in his Kansas City home and setting the house on fire in August of 2015. Shameece S. Mosby, 25, faces second degree murder, arson and armed criminal action charges.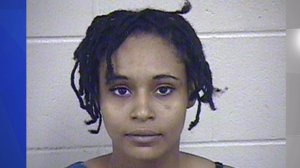 Court documents say the victim, 61-year-old William Simmons, was found dead inside his house after KCFD responded for a fire in the 300 block of Oakley on August 23, 2015. The medical examiner ruled his death as a homicide after finding Simmons had been shot in the head.
Documents go on to say that Mosby and Simmons met at the Isle of Capri Casino and had known one another for about four months leading up to his death. Mosby said during that time she had stayed at Simmons' home, and drove his Hyundai SUV.
The SUV was missing for about a week after Simmons was killed, and investigators found it at 45th and Montgall. The SUV had been painted with white spray paint and purple house paint. Inside investigators found gray paints with paint stains and a food stamp receipt that showed the card used for the purchase belonged to Mosby.
Mosby was arrested on February 1 and admitted to investigators that she shot Simmons and then set his house on fire. She also admitted to repainting the SUV.
When this case was filed in February, prosecutors charged Mosby with arson, and have since added the murder and armed criminal action counts. Her bond was denied at her last court appearance, prosecutors are now asking for it to be set at $50,000 cash. Her next court date is set for March 16.