This is an archived article and the information in the article may be outdated. Please look at the time stamp on the story to see when it was last updated.
TOPEKA, Kan. — Governor-elect Laura Kelly addressed the media for the first time Thursday since winning the governor's race against Republican opponent Kris Kobach.
Kelly spoke about everything from the transition and how she will start her governorship to what she thinks the state will look like after her first term.
First, the governor-elect gave a friendly greeting to the reporters in the room, many of whom were with her at her election night watch party that lasted well into the next morning.
"I want to thank you all for coming here today," Kelly said. "I hope that you all got some sleep yesterday because I know I didn't."
Instead of catching up on her sleep, Kelly met with Gov. Jeff Colyer and his staff to start the transition process and to fix what Kelly calls "the Brownback damage."
"No matter whether you look at our schools, look at our roads, look at our health care system, look at our foster care system, corrections system, mental health system — need I go on?" Kelly asked "There is hardly a place in state government that will not need a lot of repair work done."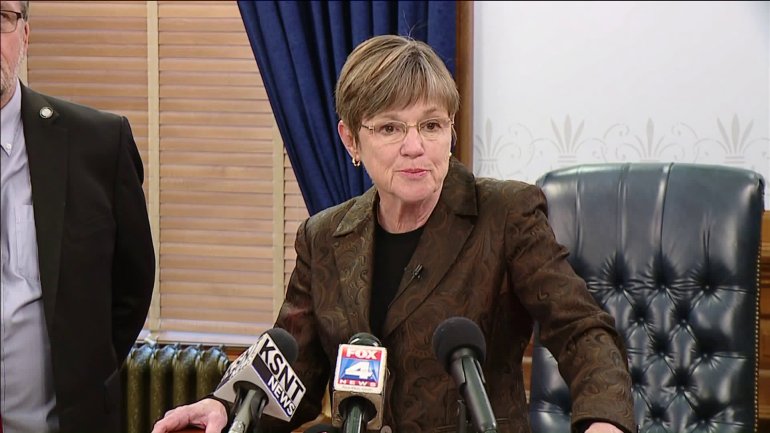 Those repairs will take some heavy lifting, and with the laundry list of failing programs, Kelly has not put them in numerical order yet. But where she will start is clear.
"Hopefully, we will be able to get the school issue sort of off the table and out of courts," she said of her first priority. "I do want Medicare expansion in place as we go forward so we can provide health care for folks."
In Kelly's plan, funding education and sorting out health care will create a number of new jobs, as has been proven in other states. She calls it the bedrock of economic growth.
That growth, plus surpluses gained after the repeal of what Kelly calls "the Brownback tax experiment," will eliminate the need for higher taxes.
Medicaid expansion will be dependent on legislative action, which will require the Democrat to work with the Republican-dominated legislature.
"I think what we will need at the end of the session more than anything is setting an entirely new tone in the state of Kansas. Taking us from this divisive battle to a much more collaborative, consensus building approach to building the state," she said.
Among other subjects Kelly will address during her term are the possibility of legal marijuana and gun laws.
"I am probably as tired as you are of waking up it seems like every morning now, and there has been some sort of disaster or tragic shooting someplace else," she said.
A day after the mass shooting in California, the Democrat who defends the Second Amendment vowed to keep her campaign promise regarding guns.
"I will bring law enforcement, mental health, public health, educators, parents and teachers together to craft some common-sense gun policy, and I will work with the legislature to get that passed," Kelly said.
In the state long thought to be the last holdout on the marijuana front, Kelly acknowledged Kansas isn't ready for a grow your own marijuana law, like the one passed in Missouri, but perhaps medical marijuana.
"But maybe even more important is to help us deal with the opioid crisis. If we could take the opioids out of our medicine cabinets, it would put far fewer of them on the street," she said.
Kelly said she will build her Cabinet with both Democrats and Republicans, but she hasn't made up her mind yet on who will be included.