This is an archived article and the information in the article may be outdated. Please look at the time stamp on the story to see when it was last updated.
BONNER SPRINGS, Kan. — The teacher and chaperone who sprang into action in August after the school bus she was riding in crashed as it exited from southbound K-7 to K-32, received an award from the Kansas Highway Patrol on Tuesday.
Marie (Jodi) Stallard received the "Honorary Trooper Award" during a ceremony at Bonner Springs High School.
Authorities say that on Aug. 21, Ms. Stallard was an essential part of keeping everyone safe and providing order to the crash scene.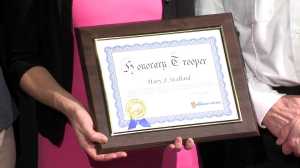 Specifically, they say she tended to the immediate medical needs of the injured children. Once the bus crash, she immediately opened the overhead escape hatch and began moving the children to safety out of the bus.
She also tried to help the 66-year-old driver, who was hanging from his seatbelt, unconscious.
A physician at Overland Park Regional Hospital said the driver was having a diabetic attack when the accident happened and charges were not expected to be filed.
There were 36 students on the bus at the time of the crash that sent 22 Pembroke Hill students and their driver to the hospital. The children were all sixth graders from Pembroke Hill School off State Line Road. They were on a field trip to Tall Oaks Camp in Linwood, Kan.
According to the accident report, witnesses stated the driver "appeared to be asleep while all of the students boarded the bus."
"I believe I saw his eyes close briefly," stated one teacher.
The driver later admitted to being tired and to taking a nap as the children boarded the bus but denied falling asleep at the wheel. The driver told investigators he entered the curve too fast and the passenger side tires of the bus went off the road. He said he tried to steer the bus back to the left, but the rear tires slid on the grass and the bus overturned.
But after viewing the camera on board the bus, the investigator noted in the report that the driver's hands were not on the steering wheel when the bus began to overturn.
Accident investigators concluded that the driver suffered from a medical condition at the time of the collision that impacted his ability to safely operate a vehicle that morning.