This is an archived article and the information in the article may be outdated. Please look at the time stamp on the story to see when it was last updated.
TOPEKA, Kan. – The state of Kansas recently joined nearly a dozen other states working to crack down on human sex trafficking, and they're going after the people paying for it.
Attorney General Derek Schmidt and Gov. Jeff Coyler are the latest leaders to sign the Demand an End petition. The national campaign doesn't advocate for any kind of legislation but instead focuses on leaders recognizing that sex trafficking is not a victimless crime.
"It's only going to change in a deep meaningful way when there's a cultural change in how we view buying and selling human beings for sexual gratification," Schmidt said.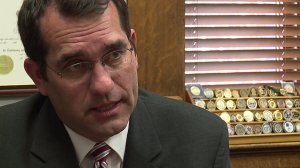 Christine McDonald was forced into human trafficking at the young age of 15 and couldn't get out for 21 years.
"I can't tell you how many days and hours I would just stand here and be like, 'Am I invisible? Can somebody just see me and say, Here, can I help you?' and it just never happens," McDonald said as she visited the intersection where she was trafficked.
She said there was a lot of dysfunction in her life, which contributed to her being vulnerable and ultimately ending up on the streets.
"I was actually befriended by a guy that gave me a place to stay, provided me housing, all these great things," McDonald said. "He earned my trust. We call that the grooming process."
She fought to escape after a near-death experience and now works at Restoration House of Greater Kansas City, helping victims and survivors of prostitution.
"I have been a part of fighting demand since 2007," McDonald said.
She believes victims of human sex trafficking are punished harsher than their pimps or the person paying for sex. She thinks the law should target what's driving exploitation: demand.
Schmidt agrees.
"If there weren't money in the system, you wouldn't have traffickers seeking to exploit human beings for the purpose of making profits," Schmidt said.
McDonald believes the petition is a step in the right direction but added that states also need to have coordinated responses if they're going to go after demand.
"Are we prepared to offer them the services? And do we have the resources that we're going to be able to give them the options to be allowed to really be free?" she asked.
If you would like to sign the petition in Kansas, vist this site. It'll be delivered to the Kansas Legislature and governor in January.