This is an archived article and the information in the article may be outdated. Please look at the time stamp on the story to see when it was last updated.
TOPEKA, Kan. — A Kansas judge ruled Wednesday that a man who donated sperm to a lesbian couple must pay child support.
Shawnee County District Court Judge Mary Mattivi ruled that because William Morotta did not use a doctor to provide the sperm, he is not an official sperm donor and is responsible for the monthly child support payments, according to the Topeka-Capitol Journal.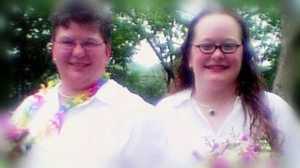 In 2009, Marotta and his wife responded to an ad in Craigslist seeking a sperm donor.  Ultimately, the Marottas decided to help Angela Bauer and Jennifer Schreiner have a child.
"They were a couple. They couldn't have children by themselves. Its something I could help with," Marotta told FOX 4 a year ago.
Marotta says he didn't receive any payment and consented to a written agreement signing away any parental rights long before the little girl was born.
"They very much wanted something in place that said okay, you're doing this for us but you don't have any claim to this child," he said in January 2013.
But in October 2012, Marotta says the Kansas Department for Children and Family Services informed him he was being ordered to cough up the less than 200 dollars a month the state had been paying.
Marotta said he was shocked.
"At which point I'm going, wow, no good deed goes unpunished," he said.
Marotta says the couple had split up and the birth mother, Jennifer, filed for social welfare.
"Jennifer was pressured, coerced in essence to give my name," he told FOX 4 in our original report.
In court documents, the state argued that because the insemination was not performed by a licensed doctor, the sperm donor contract was null and void.
Marotta told FOX 4 he believed the state's argument was at least partially politically motivated.
"I think if this was a lesbian couple in southern California I don't think it would even be an issue right now," he said in 2013.
Marotta says the child's mothers fully support him and have told the state they are the ones who should be held responsible.
In January 2013, when FOX 4's Macradee Aegerter spoke to Marotta, he was concerned about the lengthy legal battle ahead. He said he had already spent more than ten percent of his yearly salary on legal fees. A legal defense fund was established to pay for legal fees. Marotta said any remaining funds not used in his defense would be given to other sperm donors in need of legal help.
In her ruling the judge said: "In this case, quite simply, the parties failed to conform to the statutory requirements of the Kansas Parentage Act in not enlisting a licensed physician at some point in the artificial insemination process, and the parties' self-designation of (Marotta) as a sperm donor is insufficient to relieve (Marotta) of parental rights and responsibilities."
Earlier report: