This is an archived article and the information in the article may be outdated. Please look at the time stamp on the story to see when it was last updated.
TOPEKA, Kan. -- Kansas' new governor Jeff Colyer wrapped up his first full day in office Thursday.
The 57-year-old surgeon turned politician took the oath Wednesday to become the 47th governor of Kansas. One day later, he was already settling into his new office -- now marked with his name on the door -- and meeting with lawmakers.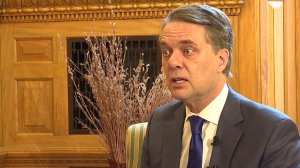 Colyer replaced former Gov. Sam Brownback who is now the U.S. ambassador-at-large for international religious freedom.
The Sunshine State's new governor promises his administration will be different than Brownback's, but how?
"I want to run this government as I see the world, as I operate, and I want to make (it so) that people get more information from us so you're going to see new areas of transparency," Colyer said.
FOX4's Mark Alford traveled to Topeka to visit with the new governor and find out how he plans to run things differently.
Hear what Colyer had to say in the video player above.