This is an archived article and the information in the article may be outdated. Please look at the time stamp on the story to see when it was last updated.
KANSAS CITY, Mo. — Residents say the Englewood Apartments have been a mess for years.
It wasn't until the ceiling of one of the apartments fell and injured a 16-year-old girl that the city took notice and is finally doing something about it.
People from several KCMO agencies were back at the Englewood Apartments for a follow-up inspection Wednesday after touring a few of the apartments Saturday.
City Councilman Dan Fowler said Saturday they found conditions that were "completely unacceptable for people to live in."
Veronica Johnson said her apartment at Englewood has been plagued with problems since she moved in 6 years ago.
"Last summer my bathroom ceiling fell in, black mold everywhere. They came. They looked at it. They did nothing," she said.
And she's not the only one.
"I have a son who has very bad asthma and seizures," Tanisha Richardson said. She said her son's doctor said it's because of the mold in her apartment.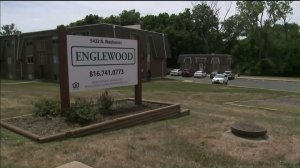 Richardson's 6 year-old son is now on an inhaler and steroids to manage his asthma and allergies because she said she's stuck at Englewood, not able to afford to move and is having a difficult time finding a new home.
"They told me to put bleach and water on it," Richardson said when asked what apartment management said she told them about the mold problem. "I told them it does not work. I already know how it goes because of what I dealt with already. And they was like, 'All we can tell you is to put bleach and water on it,' and that was it."
Richardson's sister Anesa Richardson said she got the same response from the management at Englewood Apartments when mold began taking over her apartment.
"I was spending more money on bleach then I was spending on anything to keep the bathroom clean," she said.
Apartment management would not allow FOX4 on the property to see what was going on Wednesday, but the KCMO Health Department, along with other agencies, again toured the apartments they saw Saturday.
Fowler said they found significant repairs have gone on but had harsh words for the Englewood Apartment management and parent company Millennia Housing Management.
"I'm disgusted beyond all description that it has taken us all of this with multiple agencies coming in, more agencies added on, to get a corporate owner to do basic maintenance on a facility that they are making money off of," Fowler said. "It is disgusting."
Residents said it's more than just the few apartments city inspectors toured that are affected by similar issues. Fowler said they will continue to monitor the situation at Englewood.
If you or someone you know is having similar difficulties, call Kansas City's 311 line and/or the Housing and Urban Development department to report substandard living conditions.