This is an archived article and the information in the article may be outdated. Please look at the time stamp on the story to see when it was last updated.
KANSAS CITY, Mo. — President Donald Trump is scheduled to speak at a law enforcement convention Friday at the Kansas City Westin at Crown Center.
Nearby popular attractions are hoping for a normal day of operations — with some adjustments.
During the president's last visit to Kansas City in July, the Secret Service directed tow trucks to haul away 33 cars parked on streets near the Municipal Auditorium where Trump spoke at a VFW convention.
Union Station officials are hoping for minimal interruptions on Friday.
"If you are coming down, and we hope you are, come in from the west," Jerry Baber with Union Station said. "It'll be a lot easier to get to us. And when you come in from the west, you'll be able to access our garages and enjoy everything we have to offer."
Trump's visit to Kansas City is expected to last from about 11 a.m. until roughly 1:30 p.m. on Friday.
The parking garage at Union Station will remain open Friday but management is still awaiting "some direction" from the Secret Service as to whether parking near the main entrance will be temporarily halted.
Crown Center and its parking garage will also remain open, though shoppers will only be able to enter the retail garage from the south for the duration of the president's visit.
The Secret Service hasn't revealed which downtown streets will be temporarily closed Friday or when. But business owners around Crown Center shared what they have been told with FOX4.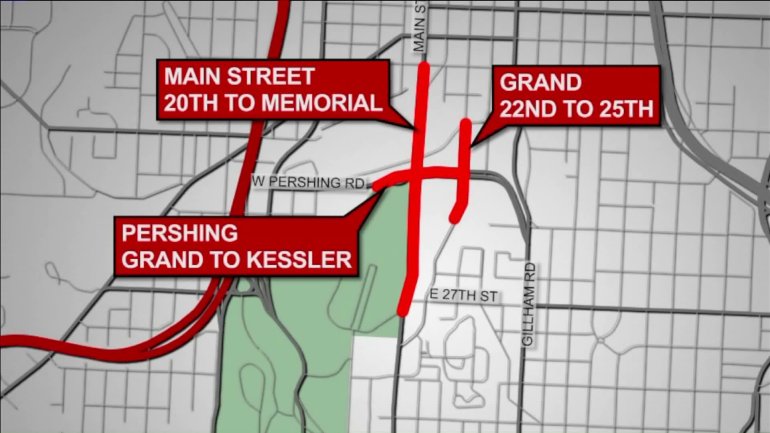 Main Street will likely be closed from 20th Street to Memorial Drive (just south of Crown Center). Grand Boulevard is expected to close from 22nd to 25th Street. And Pershing Road, in front of Union Station, will likely closed to traffic from Kessler Road to Grand.
The parking garage at the Westin will be completely closed to the public on Friday.
Baber said the holidays are the prime season for Union Station. He joked that if, for whatever reason, the president's visit lasts longer than expected, Union Station is happy to offer a contingency plan.
"In case there are unexpected changes, we do have our pajama party for the Polar Express movie. So bring your PJs, and if Trump decides not to leave, you can hunker down right here with us."