This is an archived article and the information in the article may be outdated. Please look at the time stamp on the story to see when it was last updated.
KANSAS CITY, Mo. -- A Kansas City icon has died.  James Nutter, Sr. passed away at 89.  He ran one of the oldest and largest family-owned mortgage lending firms in the country.  Nutter was also widely recognized as one of the region's biggest philanthropists.
Around Kansas City, you don't have to look hard to see the impacts of Jim Nutter, Sr.
"His generosity has really blessed so many people in and throughout the community," said Stephenie Smith, executive director of the Linwood YMCA James B. Nutter Community Center.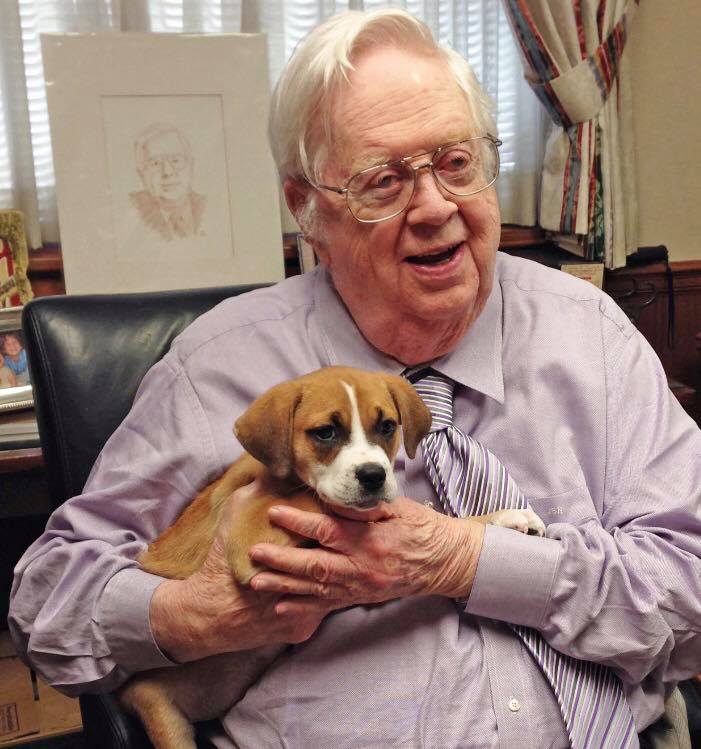 Nutter was a self made man.  He founded his business in 1951.  It grew from a home office to one of the largest family owned lenders in the US.  And he took his great fortunes, with great responsibility to give back.
"When you think about the lives that are touched through his philanthropy and his leadership, it's mind-boggling," said Robin Roland, vice president of donor relations and communications with Wayside Waifs.
Wayside Waifs might not exist today had it not been for Jim Nutter, Sr.  The animal shelter has been around for 73 years.  But after its old building was condemned in the 1990s, it looked like the doors might shut for good.  But Nutter got together with other local leaders, determined to turn things around.
"They rallied for the organization, raised about $5 million and built what is today the shelter here at Wayside," said Rowland.
Over the years, Nutter has donated millions to dozens of charitable causes around Kansas City, earning him a long list of accolades, including "Kansas Citian of the Year" in 2012.  The Linwood YMCA's community center is even named for him.
"It takes courageous individuals, people who have a heart of service, to help lead the way," said Smith.
His good deeds extended well beyond non-profits.  As a mortgage lender, he broke barriers getting home loans to large numbers of minorities and single women.  He bought up a swath of homes in historic Westport, helping revitalize the neighborhood now known as "Nutterville" in his honor.
"He's just somebody that many of us are going to miss, not just for his philanthropic support, but just how he would light up a room," said Rowland.
All of his contributions, impacted thousands of lives and brightened the community in meaningful and lasting ways.
"His legacy will endure forever.  It truly will.  And we are grateful for his leadership and his vision for what Kansas City could become," Rowland said.
Nutter's family issued the following statement about his passing:
On Friday, we lost our patriarch-an extraordinary man whose big heart, wisdom and generosity touched us and so many others in profound and lasting ways.  He taught us not only how to be honorable and fair in business, but how to listen to, and learn about people from every country, culture and religion, and to have compassion for every living thing, whether on two legs or four.  He was self-made but exceedingly unselfish.  He shared what he learned and what he earned with his family, his friends, his employees, and his customers, and good causes too many to mention.  He loved Kansas City and took great joy in knowing and helping its people in any way that he could.  He leaves behind a giant and benevolent shadow.
Funeral arrangements from James Nutter, Sr. are still being made.