This is an archived article and the information in the article may be outdated. Please look at the time stamp on the story to see when it was last updated.
KANSAS CITY, Mo. — Red light cameras received the green light for another five years in a Kansas City City Council vote on Thursday.
The vote was unanimous to approve another five year contract with America Traffic Solutions.
Since 2008, 17 intersections have had these cameras taking pictures of drivers running red lights. Statistics show that 191,000 tickets have been given out so far at $100 per violation.
Red light cameras have been credited for the decrease in red light runners and crashes.
Kansas City councilman John Sharp says the cameras decreased red light offenses by 65 per cent in their first year, and 54 per cent in the second year.
The city of Kansas City says that people have challenged their red light tickets.
"The City Prosecutor's Office reports that as with most types of traffic violations, some motions are being filed by defense attorneys challenging various technical issues. Most of these challenges concern persons coming to court to claim they were not the driver of the vehicle. 
Those who receive a red-light camera violation notice can avoid a trip downtown by going
online at the Web address on the notice. They can view the video, determine the nature of the violation, and either get an affidavit to file transferring liability to another driver, or pay the fine online with a credit card. The violation carries no points and is not reported to the Department of Revenue. Those with no computer access can utilize computers available in the lobby of City Hall to review violations."
Red-light cameras are now active at the following locations, according to the city:
39th Street and Southwest Trafficway
W. 79th Street and Wornall Road
E. 63rd Street and Prospect Avenue
39th and Main streets
E. 19th and Walnut streets
27th Street and Southwest Trafficway
U.S. 71 Highway (Bruce R. Watkins Drive) and 55th Street
U.S. 71 Highway (Bruce R. Watkins Drive) and 59th Street
U.S. 71 Highway (Bruce R. Watkins Drive) and Gregory Boulevard
North Oak Trafficway and Vivion Road
N.W. 68th Street and U.S. 169 Highway
Winner Road and I-435
23rd Street and I-435 (Note: an additional camera will be active July 31, 2009)
U.S. Highway 71 and Red Bridge Road
Bannister Road and I-435
Bannister Road and U.S. Highway 71
N.E. Barry Road/Missouri Highway 152 and North Flintlock Road
I-435 and Wornall Road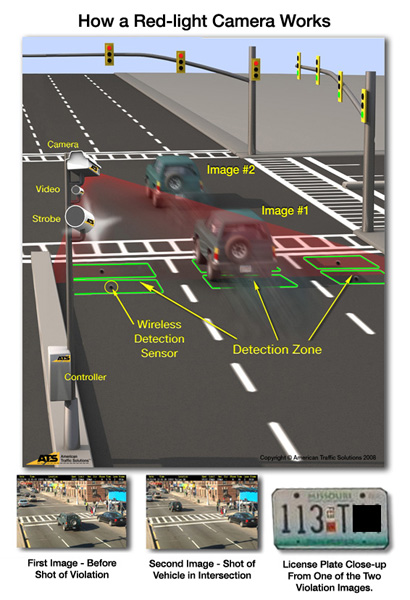 For more details on how a red light camera works, click here.
In February 2012, St. Louis Circuit Court Judge Mark Neill ruled that red light cameras in St. Louis are unconstitutional. The city appealed that ruling and the city prosecutor said she'd continue to prosecute the offense. St. Louis attorney Chet Pleban recommended those who get tickets either fight the ticket or pay the fine 'under protest' so that if the ordinance is ever repealed, they might have a case for retrieving their money.