This is an archived article and the information in the article may be outdated. Please look at the time stamp on the story to see when it was last updated.
KANSAS CITY, Mo. — A Kansas City firefighter is now charged with two counts of second-degree domestic assault.
Court documents say 38-year-old Joseph Valdiviez's girlfriend told police that he "placed both hands around her neck and choked her until she passed out" on Oct. 29.
The 37-year-old woman didn't initially report that incident to police.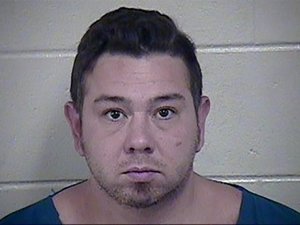 Two nights later, on Halloween, the woman said she and Valdiviez left a Raytown bar after arguing and went home. On their way home, the woman said Valdiviez told her to stop, and he then got out of her car.
According to court records, a short time later the woman said the Kansas City firefighter arrived home, yelled at her and repeatedly punched her in her face, chest and on her right side in the basement.
Police said the woman went to a hospital and was treated for two rib fractures. Police also said the woman's 9-year-old daughter witnessed the alleged attack.
After the alleged assault, Valdiviez left the home, but police later arrested him.
A spokesman for the Kansas City Fire Department tells FOX4 they "are aware of the charges and the department takes these allegations very seriously. We cannot comment on the charges until after the legal process plays out. Any disciplinary actions will occur after the legal process plays out, per our department policy."
As of Monday night, Valdiviez remained in the Jackson County jail on a $25,000 cash-only bond.