This is an archived article and the information in the article may be outdated. Please look at the time stamp on the story to see when it was last updated.
KANSAS CITY, Mo. — Mayor Sly James says he wants to do "something bold" to honor Martin Luther King Jr.'s legacy.
Civil rights leaders in the metro are pushing for the proposed new Kansas City International Airport to be named in King's honor. James said he favors naming the terminal building at the new airport in tribute to King — and mentioned a potential name: the Dr. Martin Luther King, Jr. Terminal at Kansas City International Airport.
On Monday afternoon, James and his MLK Advisory Board met with reporters at the Plaza Branch of the Kansas City Public Library. The community leaders said they've collected opinions from the public, all of which favor naming the airport as such.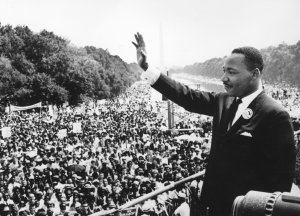 James said he's also heard from some critics who complain King wasn't a Kansas City native and from others who prefer the airport use the city's name instead of a person's name, regardless of whom that person may be.
"There's always going to be critics," James said. "The bottom line is there is significant movement and, I think, significant support for doing something to honor Dr. Martin Luther King. We had community forums where these people sat and asked for community input from citizens, and I sure they heard someone come up to say 'I don't like that idea.'"
"Each of us felt and we believed from talking with residents of Kansas City that a highly-visible public honor in Kansas City is due Dr. King for his tireless work toward civil rights for all Americans," said Roger Williams, a member of the MLK Advisory Board, reading from a prepared statement.
James pointed out the official airport name, Kansas City International Airport, wouldn't change and neither would MCI, the three-letter code given to the airport by the Federal Aviation Administration. He also points out Kansas City as being one of the United States' largest cities without a significant street or landmark named in honor of King, who was assassinated in April 1968.
"Most people say, I'm going to Kansas City. I'm going to go to the airport. I'm going to get on a plane, and I'm going to land in Kansas City, and I'm going to land at MLK Airport. They're really going to land at MLK Terminal. I don't think it's a big deal, really," James said.
James also mentioned The Paseo, and the recent interest in renaming a stretch of that road in King's honor. He said no decisions have been made on that proposal, and the mayor won't rule out the idea that both the proposed new airport and that well-traveled east Kansas City street could each bear King's name.
The mayor's office told FOX4 the city council will likely study the feasibility of changing the names of these sites before any public vote could be taken.