This is an archived article and the information in the article may be outdated. Please look at the time stamp on the story to see when it was last updated.
KANSAS CITY, Mo. — A metro man makes an emotional plea for peace on Facebook. Hours later, he ended up dead.
Now police are investigating Walter Lee Gregory's murder. Wednesday night, loved ones gather to remember 40-year-old Gregory.
The non-violence group "Mothers In Charge" was front and center. This vigil hit close to home for the organization's executive director. Much like she has at dozens of vigils before, Rosilyn Temple addressed a group of grieving loved ones, but this time it was different.
"This is three times this has happened to our family. It was a cousin before, then my son, now it`s Walter," said Temple.
The homicide victim being remembered was her cousin. Gregory was gunned down last Tuesday at 39th and Troost in broad daylight. More than a week later, loved ones sent up balloons with their prayers in his honor.
The morning he was shot, Walter Gregory posted on his Facebook page in part…'Why do black people hate each other so much? Who taught us that this was ok?.'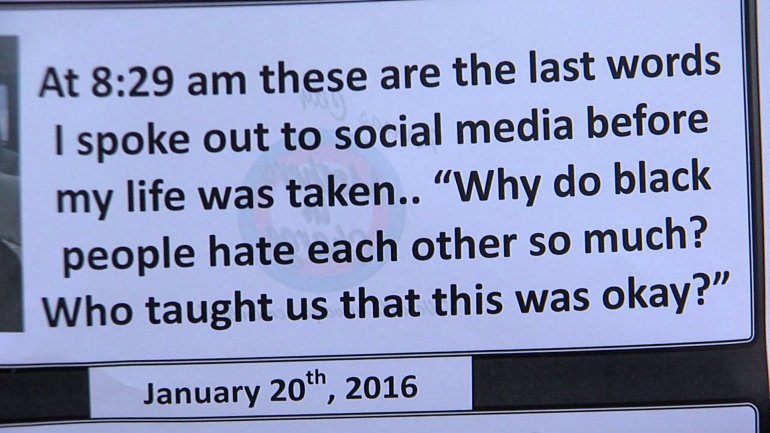 That sentiment was echoed by Gregory`s father, who said before black lives can matter to anyone, they have to matter to the black community.
"If life really matters it's got to start with us," said Walter Kidd.
Kidd says his son had no known enemies, and can`t imagine who`d want to hurt him.
"What I can`t understand, he didn`t have a beef with people. It had to be somebody personally jealous of him or something," said Kidd.
He says his son was generous even beyond his last breath. He was an organ donor.
"I know right now that his heart is going to beat in somebody else," said Kidd.
He was also taking care of his mother who was bedridden and suffered a stroke.
"What type of child, an only child would stop their life and to start taking care of a mother? Now what does that tell you about the man? That`s a man," said his stepmother Brenda Kidd.
Gregory leaves behind two daughters, who will only have memories of their father left to cling to. Now the family is pleading with the one who pulled the trigger to turn himself or herself over to police.
If you have any information call the TIPS Hotline at (816) 474-TIPS.