This is an archived article and the information in the article may be outdated. Please look at the time stamp on the story to see when it was last updated.
KANSAS CITY, Mo. — Kansas City, Mo., police shot and killed a suspect in connection to an overnight theft.
He has been identified by police as 24-year-old Ryan L. Stokes.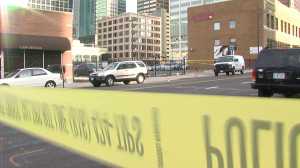 Police were called to the area of 13th and Grand around 3 a.m. Sunday.
When officers found Stokes, he ran off. When officers were able to catch up with him, he showed a gun to officers.
"When he failed to drop it after being ordered to do so by an officer, that officer shot him," a news release said.
Stokes was taken to the hospital where he was pronounced dead.
No other information was immediately available by police.