This is an archived article and the information in the article may be outdated. Please look at the time stamp on the story to see when it was last updated.
KANSAS CITY, Mo. — A Kansas City Chiefs player shot himself Saturday morning at Arrowhead Stadium after shooting his girlfriend at an East Side Kansas City home according to Kansas City Police.
Police confirm Jovan Belcher, 25, shot Kasandra Perkins, 22, multiple times at about 7:40 a.m. on Saturday in the 5400 block of Crysler on Kansas City's eastside. Then he drove to Arrowhead Stadium's training facility, where according to Kansas City's mayor, he encountered Chiefs Head Coach Romeo Crennel and GM Scott Pioli. They reportedly tried to talk him down, but as police arrived, he ended his life.
"You have absolutely no idea of what it's like to see somebody kill themselves. If you can take your worst nightmare and then put somebody you know and love into that situation and give them a gun and stand three feet away from them and watch them kill themselves, that's what it's like. It's unfathomable. It's something that you would love to wash away from your mind but you can't do it. There's nothing like it," Mayor Sly James said.
Belcher was a starting linebacker, #59, and joined the Chiefs organization in 2009.
Belcher and Perkins had a three-month old daughter named Zoey.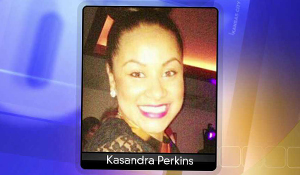 "I'm so sad. She's so young and she will never know her parents," said Jennifer Ashley, one of Kasandra's friends. "She's so young she won't remember them."
Jovan Belcher's own mother was the one who called 911 and told police that Kasandra had been shot. Kasandra is the cousin of Chiefs' running back Jamal Charles' fiance.
Friend Jennifer Ashley said she saw Kasandra at the gym on Friday and she was there with a couple wives of other Chiefs players. Another friend said she was with Kasandra Friday night at the Trey Songz concert.
Friends say the couple often argued and reportedly got into an argument over Kasandra allegedly coming home from the concert too late.
"Any sane person can go insane," Ashley said. "I think pressure, stress. I don't know."
Kansas City Mayor Sly James arrived at Arrowhead shortly after the shooting and spoke with Chiefs General Manager Scott Pioli.  Mayor James said Pioli was devastated and trying to deal with the situation as best he could. In spite of the distress, the KC Chiefs decided to proceed with tomorrow's game against the Carolina Panthers as scheduled.
The mayor asked that everyone wear red tomorrow to show unity.
"It's a simple thing, but it's a symbolic thing. We find a number of reasons to divide ourselves; and we can get pretty mean spirited," Mayor James said. "We can talk about 25, 26 30 year old kids playing a game as if they're trash if they don't perform up to our standards Most of us who have never played the game above high school but all of a sudden we can tear 'em apart if they don't meet our expectations. That has an impact on people. I don't care how you slice it or dice it," he said.
"Sometimes I just think we're bass-ackwards," the mayor said.
Click here to read more of the mayor's comments.
Kansas City Chiefs Chairman and CEO Clark Hunt issued a statement Saturday afternoon about the tragic loss of two lives:
"The entire Chiefs family is deeply saddened by today's events, and our collective hearts are heavy with sympathy, thoughts and prayers for the families and friends affected by this unthinkable tragedy. We sincerely appreciate the expressions of sympathy and support we have received from so many in the Kansas City and NFL communities, and ask for continued prayers for the loved ones of those impacted."
We will continue to fully cooperate with the authorities and work to ensure that the appropriate counseling resources are available to all members of the organization."