This is an archived article and the information in the article may be outdated. Please look at the time stamp on the story to see when it was last updated.
KANSAS CITY, Mo. — Peggy Johnson beams with joy when she boasts about her 16-year-old grandson, Marquise Ellinburg.
"He had a beautiful smile. He was caring, loving person. He helped his granny all the time," Johnson said.
Now, the people who loved the Kansas City teen are hurting and devastated.
"Yes, it's just a shock. We are all hurting, and his poor mom — I just don't know what to say," the boy's grandmother said.
No one can believe on Tuesday morning Marquise was shot in his leg near 113th and Corrington. The teen later died at a local hospital while in surgery.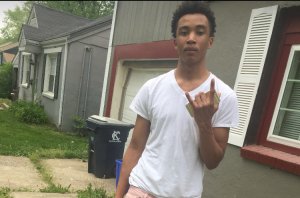 "He just bled so and couldn't hold on. He died one day before his mother's birthday. His poor mom is just sick beyond repair. My daughter. His mom. His heart. Her baby," Johnson said, holding back tears.
Now, a memorial of balloons, flowers and a photo of the teen is growing in the neighborhood where he was shot, and friends and family are mourning.
"He was so young. Sixteen is too young to die so soon," she added.
"He was a true friend. He was so caring, fun and encouraging to other students. His spirit was very uplifting," said Lacy Adkins, who went to Ruskin High with the teen.
On Wednesday police canvassed the area where the shooting happened once again. Officers looked for the shooter and clues in connection with the teen's homicide.
"That was someone's child, someone's boyfriend, someone we all loved, and I just want the person who did that to come forward," said Mikeela Morrow, a close friend of the Marquise.
"We are hurting so, and we just need plenty, plenty prayers right now. God saw who did it, and He will help us get through this," Johnson said.
Anyone with information on this is asked to call the TIPS Hotline at 816-474-TIPS or the Homicide Unit directly at 816-234-5043.