This is an archived article and the information in the article may be outdated. Please look at the time stamp on the story to see when it was last updated.
KANSAS CITY, Mo. -- A Northland teen is accepting the highest honor a Girl Scout can earn, and it's even more impressive because doctors once warned she'd never speak.
Faith Endsley isn't just living with autism. She's excelling, and she's helping other girls just like her.
Seeing Faith in the loud lunchroom at Staley High School, it's hard to imagine the progress she's made since her freshmen year.
"I have not seen this kind of dramatic change or improvement in any student probably ever," case manager Harvey Marken said.
Four years ago, anxiety and communication problems connected to her autism led to meltdowns. It kept Faith from being a full-time freshman.
But the support and understanding of her parents, classmates, teachers and school staff have completely changed things.
"My kids love her. And on days when she's not having a great day, they will kind of rally around her, and it's awesome," Staley business teacher Erin Johnston said.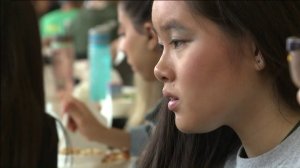 When doctors diagnosed Faith at 3 years old, they told her mom she'd likely never speak.
"The worst thing he said to me -- and I'll never forget it -- is he said she'll never have any empathy or sympathy. He said she could be another Jeffrey Dahmer," Christie Endsley said.
Faith's mom credits Children's Mercy Hopsital and a longtime therapist for preventing that nightmare.
Now, through years of scouting, Faith has learned she loves to do community service -- so much that she's completed 600 hours in the past year.
"I learned to do community service and that I figured out that I feel good whenever I do community service and help others," Faith said.
"If it means to help someone, then she's right there for it. So quite the opposite of what was so frightening," Christie Endsley said.
Faith's not just serving any community. Her Girl Scout Gold Star project helps her community: other girls with autism.
Faith's a member of Girl's Night Out, a program where girls on the spectrum get paired with a mentor. It teaches girls how to socialize in an environment of acceptance.
"We do a lot of different things like go to yoga in the park or go out to eat sometimes," Faith said.
But that mentorship officially ends after one year when the girls become alumni. So Faith extended the program, creating "Girls Night Out Connections" where girls on the spectrum can fill out a profile and get matched with others for more long-term friendships.
As the national Girl Scouts shine a spotlight on that project, staff at Staley are ready to see her excel after graduation.
"To see her go from where she was, which not many people gave her much hope to have a lot of success, to being able to go out and I think she will be very successful," Marken said.
After Faith graduates next week -- with a 3.8 GPA by the way -- she wants to study to be a laboratory technologist. It gives her mom great peace of mind to know her daughter will be self-sufficient one day.