This is an archived article and the information in the article may be outdated. Please look at the time stamp on the story to see when it was last updated.
KANSAS CITY, Mo. -- Families escaped with their lives after flames ripped through their apartment on Friday morning. Now a suspect is in custody as firefighters investigate the cause of the blaze that happened in KC's Old Northeast neighborhood.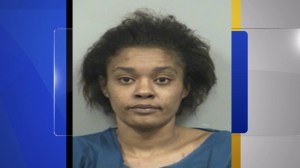 Loukesha C. Smith, 37, faces one charge of first-degree arson, and is being held on a $50,000 cash-only bond.
Demolition crews spent the day tearing down what's left of the multi-unit building in the 2600 block of Lockridge Avenue.
They had to tear down the three-story apartment building so fire crews could finish putting out the fire that lit up the morning darkness, forcing at least 16 people from their homes. Two people were taken to a hospital; one of them escaping the flames by jumping from a second-story window.
"You can`t breathe, you can`t breathe at all. You keep coughing just to grab another breath," said fire victim Melissa Hatfield.
Hatfield had lived in the building longer than anyone with her boyfriend and baby. She said they couldn't get out the back of the building because that`s where the fire was coming from, so they ran out the front, banging on doors the whole way out.
"A man apologized to me for his girlfriend or girl companion burning a mattress," said Hatfield.
Hatfield says she does not accept his apology. KCPD's bomb and arson unit took Smith into custody earlier on Friday.
"He said he tried to pull it out the back door and the entire back porch caught on fire and set the entire back building on fire," said Hatfield.
This apartment fire brings back memories of the October apartment fire on Independence Avenue where KCFD firefighters Larry Leggio and John Mesh were killed when the building collapsed.
"We think of it every day. You are always thinking about what has happened and try to avoid it in the future. It doesn't stop us from doing what we do," said Battalion Chief Mike Cashen.
Cashen says that at first firefighters were inside fighting the fire, but could only get to the second floor before being driven out by flames, taking a defensive position outside when this building began to crumble. Residents watched their homes get destroyed, but were thankful they got out alive.
"I didn't think I was going to make it," said Hatfield.
No firefighters were injured and all of the residents made it out alive. One person remains in the burn center at The University of Kansas Hospital as of Friday night.