This is an archived article and the information in the article may be outdated. Please look at the time stamp on the story to see when it was last updated.
INDEPENDENCE, Mo. -- One of two women charged Monday with the abuse or neglect of a 10-year-old child worked with other children as a temporary teaching assistant earlier in the school year, according to the Kansas City, Mo. School District.
LaTrecia Hendrix, 36, was assigned to the Richardson Early Learning Center through Kelly Services temporary employment agency. The district says, by contract, LaTrecia Hendrix was an employee of Kelly Services.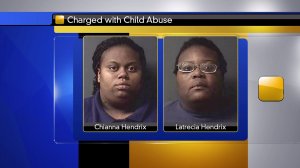 On Monday, Jackson County prosecutors charged LaTrecia Hendrix and Chianna Hendrix, 25, with abuse or neglect of a child resulting in serious emotional or physical injury. A report of a runaway led police to the child, who was reportedly emaciated and underdeveloped. Court documents say that Chianna Hendrix is the child's biological mother.
According to a probable cause statement, officers fed the victim who immediately became sick. When the child was taken to Centerpoint Hospital, detectives saw marks that looked like fingernail scratches all over the child's body and saw bruising in the ribs. The child had little bladder or bowel control and was sent to Children's Mercy Hospital due to the extent of the neglect.
Court documents say police also went to the child's Independence home in the 400 block of N. Ponca Drive and found bottles of urine on the floor and feces on the bed in the bedroom. A five-year-old child in the home told a Children's Division investigator that the 10-year-old was often beaten for taking food and locked in the basement.

"As is required of all persons working at public schools, Hendrix passed an extensive background check before her assignment. KCPS administrators have not received any reports at this time that would suggest that Hendrix abused or mistreated students at Richardson," said Ray Weikal, KCMO School District public relations and marketing coordinator, in a statement to FOX 4.
Wednesday afternoon, Kelly Services also released a brief statement: "Kelly Services was disappointed to learn of the charges against one of our employees for behavior occurring outside of work hours.  The safety of students is our number one priority and all Kelly employees placed in a classroom setting undergo extensive screening and background checks," it said.
When interviewed by police, both suspects admitted they knew something was medically wrong with the child, but didn't provide medical treatment.
LaTrecia Hendrix told investigators it was an ongoing issue for the past two years due to lack of medical insurance. She denied any other type of abuse, but did say the child stealing food was a problem that led to punishment.
"KCPS will cooperate fully with the ongoing investigation into this incident. As always, the safety and security of students is the top priority. Hendrix has been removed from her temporary assignment with KCPS and will not be utilized by KCPS in the future," the school district said.
Prosecutors have requested a $100,000 bond for each woman.