This is an archived article and the information in the article may be outdated. Please look at the time stamp on the story to see when it was last updated.
KANSAS CITY, Mo. — The Kansas City Fire Department struggles with losing two of its own Tuesday night as the Bureau of Alcohol Tobacco and Firearms and Explosives arrived to help the department figure out what went wrong at a destroyed apartment building in Old Northeast Kansas City.
Monday was a night of triumph and tragedy; firefighters rescued two from the burning building, only to lose two of their own. The fallen firefighters are 17-year veteran Fire Apparatus Operator Larry Leggio, 43, who leaves behind a wife and mother. Thirteen-year veteran fire fighter John Mesh, 39, leaves behind a wife and four daughters. Two other firefighters injured have been identified as Christopher Anderson and Dan Werner. Both Anderson and Werner have been released from the hospital according to the fire department.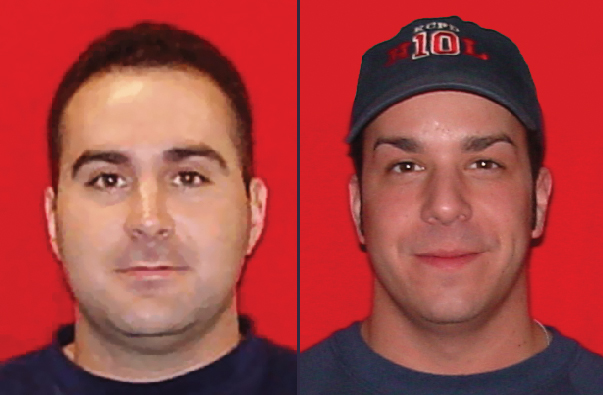 Leggio and Mesh had a combined 30 years of service together with the Kansas City Fire Department, but Tuesday afternoon FOX 4's Dave D'Marko learned their bond was formed even before the brotherhood of the fire department.
Leggio and Mesh grew up as friends on Kansas City`s Northeast side. They both come from families of firefighters.
Mesh`s brother, Mark, is an instructor at the Fire Academy here in Kansas City. Leggio`s dad, Angelo, was a firefighter, and as a child he and his mom would listen to the scanner together and when they heard a fire, she would drive him out to see his heroes in action.
"Since his dad was on that was his passion, he wanted to be a firefighter. It`s sad to say that these two firefighters are gone, they are going to be missed, everybody in the fire department loved them, it`s a sad day for us," said Billy Galvin, president of IAFF Local 42.
Leggio, who loved to ride motorcycles, and Mesh, whose four daughters attended Independence schools, were killed trying to keep the fire from spreading to a neighboring apartment building Monday night when a wall collapsed, shortly after 8 p.m., sending debris out as far as 30 feet and trapping four firefighters. Both of the injured firefighters, who survived the collapse were out of the hospital and home recovering on Tuesday. The four firefighters were not inside the building when the collapse happened.
Some of the tenants of that apartment building, who are now burned out of their apartments, recounted what they call "an awful nightmare" to FOX 4's Robert Townsend on Tuesday.
On Tuesday afternoon, 10 hours after the deadly fire, firefighters were still pouring lots of water on the huge pile smoldering rubble, making sure hot spots do not rekindle.
A team of investigators including the KCFD, the Kansas City Police Department`s Bomb and Arson Unit and a special response team with the Bureau of Alcohol and Tobacco, Firearms and Explosives are working to figure out what caused Monday night`s fire, which took the lives of the two Kansas City firefighters and sent tenants running for theirs.
"When I seen the smoke, I went screaming. I couldn`t get upstairs," said tenant Teresa Brown.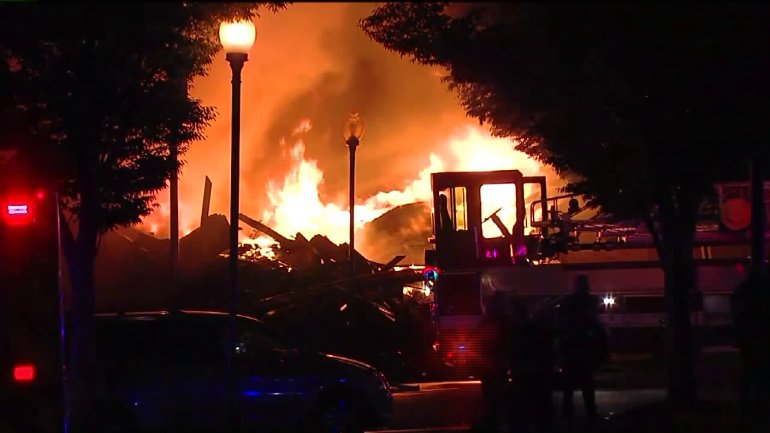 Immediately after she saw thick, heavy smoke fill her second floor hallway Monday night, a frantic Teresa Brown took off to alert her neighbors.
"Running through the halls, telling everybody 'Fire! Get out!'" recalled Brown.
Around 7:30 Monday night a massive fire quickly engulfed their apartment building in Kansas City`s Old Northeast Neighborhood.
"I`m scared for my life," said Brown.
Despite being afraid, Brown, who has lived in the apartment for eight years, was on a mission to save her neighbors.
"I was losing my breath and stuff so I had to scream, and thank God everybody in the building heard me," said Brown.
Investigators say minutes after the raging fire broke out, more than a dozen tenants got out safely, but the residents tell FOX 4 that veteran firefighters Leggio and Mesh helped a brother and sister escape the huge inferno just in time.
Right after that, two mayday calls and then heartbreaking news; a gigantic wall, part of the burning apartment building, collapsed on top of Leggio and Mesh, killing them and injuring two of their fellow firefighters, right before Teresa Brown`s eyes.
"It was horrible," said Brown. "I seen them trying to revive them. I seen everything. I was right there. It was terrible."
Brown`s eyes filled with tears for the two fallen firefighters she calls heroes.
"They saved us. They tried to save our stuff and they lost their lives doing it," said an emotional Brown.
The two injured firefighters were treated and released from the hospital.
On Wednesday ATF investigators will begin digging through the huge pile of brick and wood, looking for the cause of the deadly fire.
Click here to watch and read previous coverage.