This is an archived article and the information in the article may be outdated. Please look at the time stamp on the story to see when it was last updated.
KANSAS CITY, Kan. – Police in KCK are investigating a rolling gun disturbance that ended near the Wyandotte County Jail and sent one man to the hospital.
The shooting started near North 10th Street and Pacific Avenue. The male victim, who is in his 20s, told investigators someone fired several shots into his car by the time he pulled up to the Wyandotte County Jail, around 6 p.m. Thursday.
"As our officers were walking into the building, a car pulled up and one of the occupants in the vehicle told us that he had been shot," Officer Zac Blair said.
The victim was shot, at least, once in the back but is expected to survive. His girlfriend was also in the car at the time of the shooting; she was not hit. Her mom told FOX4 the couple was on their way home from grabbing dinner.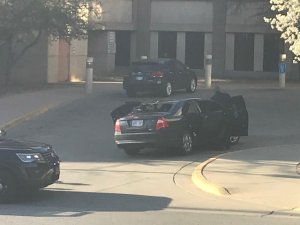 Yesenia Vasquez lives in the area where the shooting started. The back window of her mom's SUV was shot out.
"I heard some shooting, which at first it sounded far away, but when I peeked out through my window. The car driving up the street shot our car, and they just drove up and it was multiple cars," Vasquez said.
She said her family was shaken by the ordeal.
"Obviously, we were just scared and nervous," Vasquez said. "First thing I could think about was the kids. I went inside, went to back to see if all the kids were inside and everybody was safe, so we stayed inside until police got here."
Vasquez said she remembered seeing a Hispanic man shooting at the victim's car. She said the suspect was in the back seat of what appeared to be a black Dodge Avenger. However, police did not have a motive or official suspect information as of Thursday evening.
"We're not entirely positive who the suspects are, what might have started any of this," Blair said. "We don't know if it's road-rage related or anything."
Anyone with information is encouraged to call the TIPS Hotline at 816-474-8477.