This is an archived article and the information in the article may be outdated. Please look at the time stamp on the story to see when it was last updated.
KANSAS CITY, Kan. — The father of a seven-year-old Kansas City, Kan., boy, whose remains were found in a livestock pen around Thanksgiving 2015 pleaded guilty Friday in Wyandotte County to one count of 1st degree murder for the death of his son.
Michael Jones, 46, is scheduled to be sentenced on May 3rd.
In November, the stepmother of the boy known as A.J., was sentenced to life in prison for the little boy's brutal death.
Heather Jones, 31, accepted a plea agreement, admitting to the murder of her stepson Adrian, whom they called A.J. They also say she admitted to denying the boy food, chaining him up and tasering him.
The day before Thanksgiving 2015, police were called to the home when Heather Jones reported her husband, Michael Jones attacked and fired a gun at her. Heather told detectives Michael killed his son and disposed of his body in a livestock pen.
Heather was sentenced to life behind bars, a hard 25 years, meaning she has to serve 25 years before being eligible for parole. She also faces an additional 68 months for other charges.
For Michael Jones, he faced an upgraded, premeditated murder charge which carries a minimum 50-year prison sentence if he's convicted.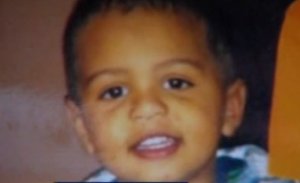 A.J. went missing towards the end of September 2015. No one ever reported his disappearance.
In an interview with FOX 4 in December 2015, Heather Jones said her husband was a violent man and said she was afraid to leave him. They had been married for nine years.
Heather says she told detectives Michael killed A.J. late in the summer, and disposed of the boy`s body in the livestock pen.
"He passed away in his sleep, but it was from injuries that he had sustained from getting beaten," Heather told FOX 4 in December.
Heather also said then that she was out-of-town at the time of the child`s gruesome murder, but later saw Michael committing the crime on surveillance video. The couple`s home has several security cameras.
"She still puts all the blame on Mike, but I believe she's equally responsible," AJ's grandmother Judy Conway said following the sentencing, "She had the opportunity to just pick up the phone and call me thank you and she never made that known to anyone."